Facial skincare and body care go hand-in-hand; moisturizing your body is a must if you want your skin to maintain its radiant glow. Some of you might be of the view that skincare has to do with enhancing your appearance, but the truth is, it goes way beyond that. Taking proper care of your body's largest organ means taking care of YOU!
But what do you have to say when it comes down to body butter vs lotion? Which of these is the better option for your skin? Well, Celestolite is here to help you decide whether a lotion or a body butter would suit you best, depending on a few factors. So, let's dive in!
What is Body Butter?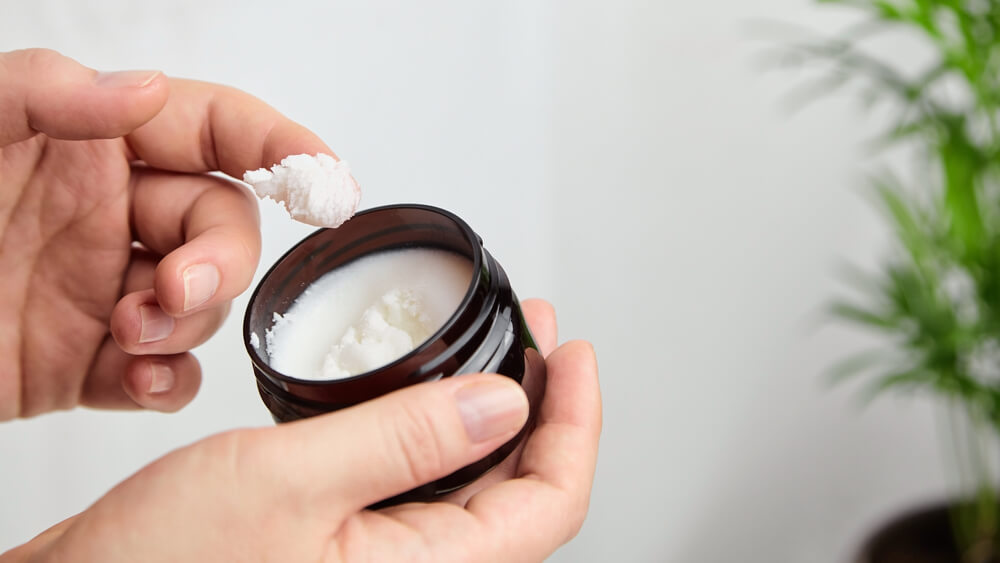 Let's establish the basics before jumping straight into the body butter vs lotion discussion because it's important to understand body butters and how they work.
So, what is body butter?
It's a type of moisturizer for your skin that tends to incorporate animal fats and vegetable-based oils and butters, like tallow, shea butter, and coconut oil. These are thick, velvety formulas that are perfect for replenishing your skin's natural oils and keeping it looking smooth and feeling soft. That's why you'll find that they often come in jars for you to easily scoop out.
With their rich buttery texture, body butters are much heavier than creams and lotions. So, they're suitable for extremely dry skin types to help ease the look of flakiness and irritation.
Body butters are also known for their luxurious feel. So, if you feel like treating your body to some indulgent at-home self-care, body butters will take you there! If you have very dry skin, every day should be body butter day for you! They work especially well to take care of coarse patches of dry skin on your body, like your elbows, knees, and heels.
In the winter months, the harsh cold weather can take a toll on your skin. There is a lot less moisture in the air for your skin to absorb, rendering it dry with patches of coarse skin that often feel irritated. This is where body butters come as a godsend to moisturize your skin!
Celestolite's Revitalizing Body Butter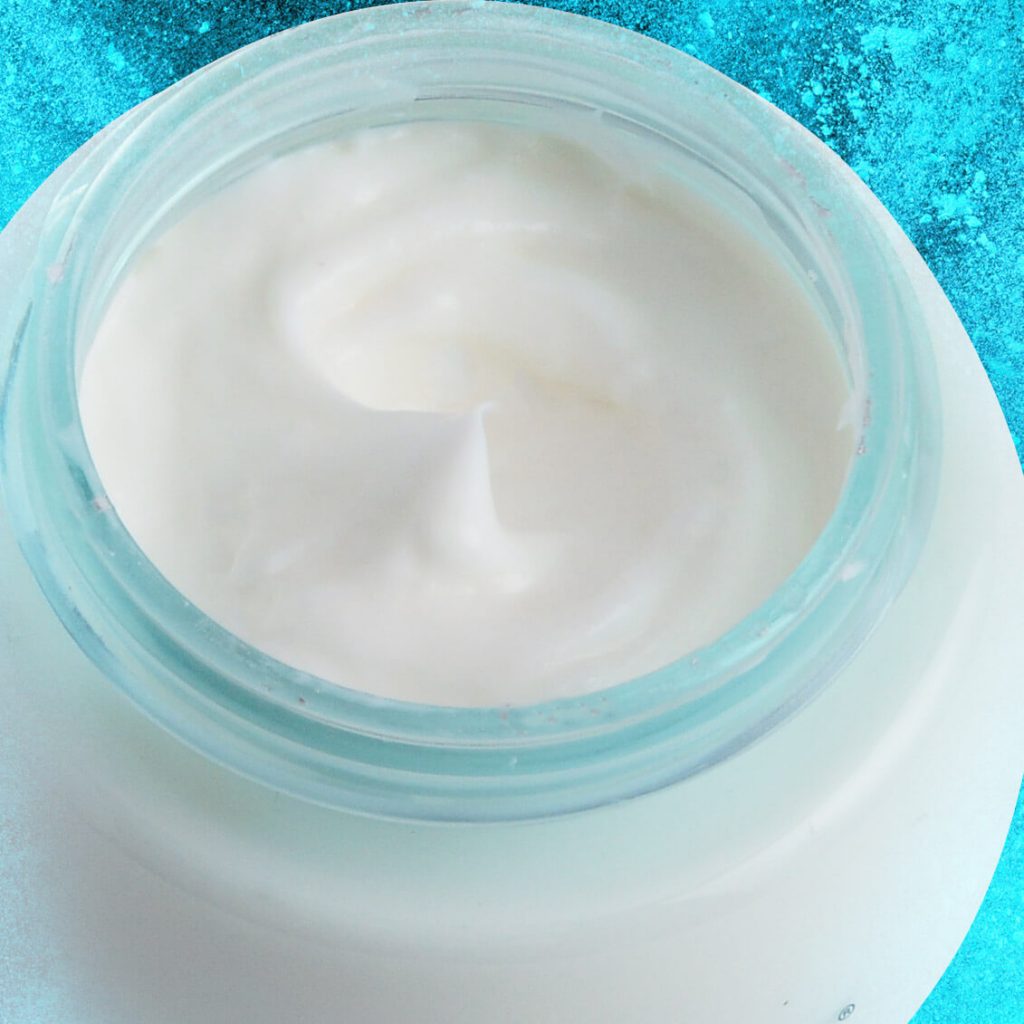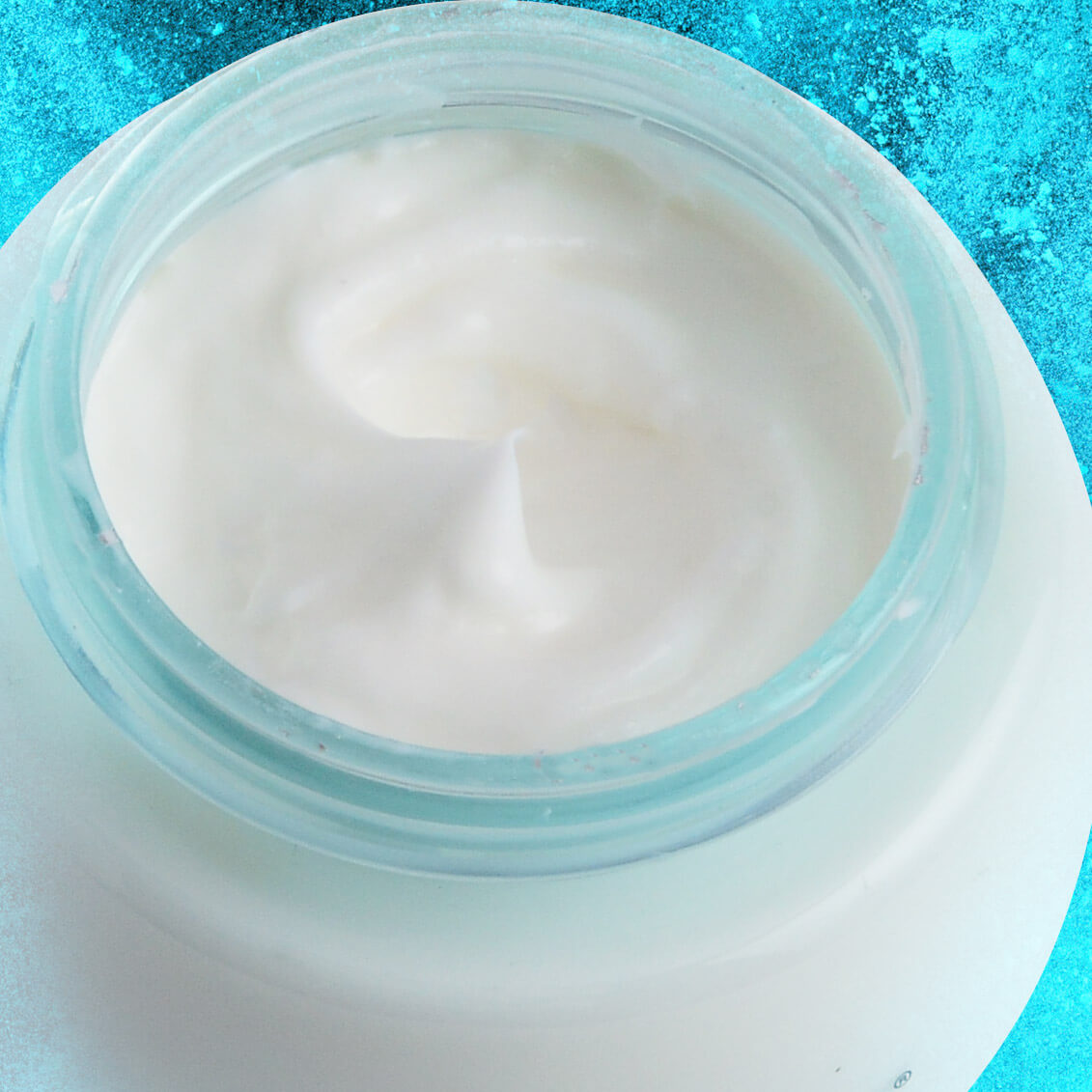 Enough teasing, let's talk about the Celestolite Revitalizing Body Butter. This sensational formula is perfect for restoring your skin's moisture and alleviating dryness. Made with shea butter and glycerin, this buttery body cream will help smooth the look and feel of your skin, giving it a radiant glow.
Shea butter is rich in fatty acids like linoleic, palmitic, stearic, and oleic acids. These are essential for diminishing the look of age spots, discoloration, and dullness on your skin. In addition, they also help reduce the appearance of red, puffy skin. Our formula also incorporates mineral oil which is known to help make your skin feel soft and supple while also helping to reinforce your skin's natural barrier function.
How to use the Celestolite Revitalizing Body Butter? To make the most of our exquisite moisturizer, we recommend you use it daily on dry, dehydrated skin. Apply a liberal amount to freshly cleansed skin and massage the butter in until it's fully absorbed. Pay special attention to your skin's problem areas with coarse dry patches because they need some extract TLC to help them bounce back!
For optimal results, use it in conjunction with our Radiant Body Exfoliant that's specially designed for dry skin. Here's a brief overview of what this rich, spa-like scrub is all about:
It contains skin-enhancing oils that are perfect for smoothing the look of dull and dry skin. It also infuses sea salt to remove the top layer of dead skin gently yet effectively from the surface and help you reignite your youthful glow.
But the star ingredient in our formula is meteorite powder. Rich in calcium, magnesium, and silicon, meteorite powder helps keep your skin looking young and fresh. Restore lost moisture in your skin while exfoliating with our Radiant Body Exfoliant!
What is Body Lotion?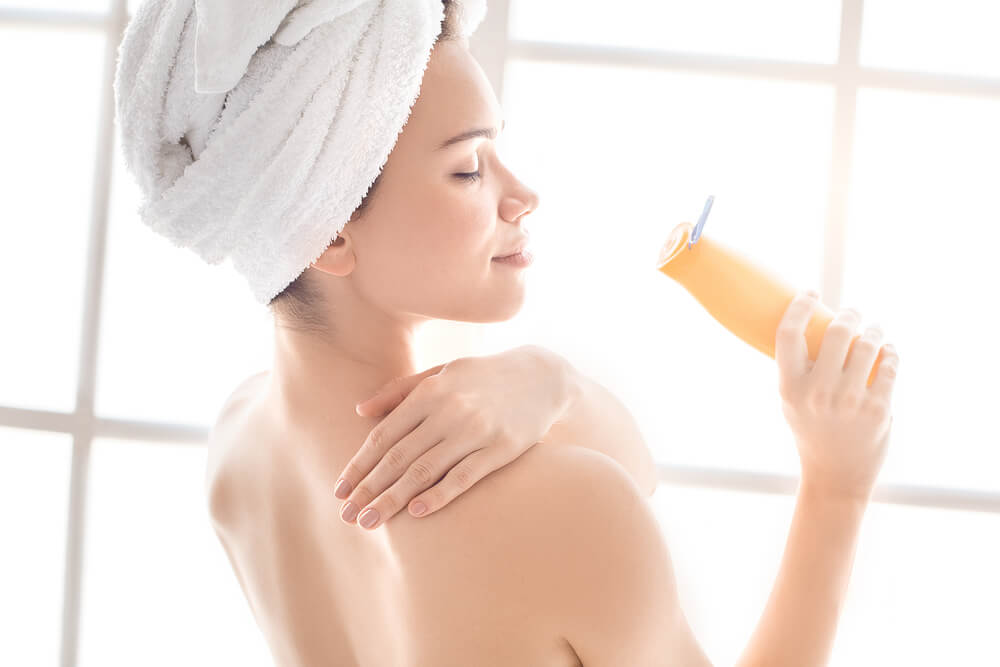 Now that we're all well-versed in the world of body butter, let's talk about body lotions. A lotion is a light, fast-absorbing formula that's mostly water. It has a non-greasy feel to it, so it's ideal if you need to keep your skin hydrated without having it weighed down by oils.
If we talk about body butter vs lotion, one obvious difference is that since body butters are on the richer side, they're not suitable for quick, on-the-go use. Body lotions would be best in such scenarios where you need quick absorption before heading out. 
A body lotion is a sensational moisturizing option for oily skin types who could do without any extra greasiness in their skincare formulas. It's an emulsion blend of oils and water and its lightweight texture is ideal for people who want an adequate supply of moisture without the associated slippery feeling that rich body butters leave your skin with. What's more; a body lotion spreads more easily and carries considerably less fatty matter, making them non-comedogenic and a great option for people who experience frequent breakouts.
Body Butter vs Lotion: Understanding Your Skin Type
Body butter vs lotion isn't a debate of which is better in general, each has its own place in the skincare game. It all boils down to what your skin type is and what its specific needs are. So, let's talk about body butter vs lotion from the perspective of skin type.   
Dry and Sensitive Skin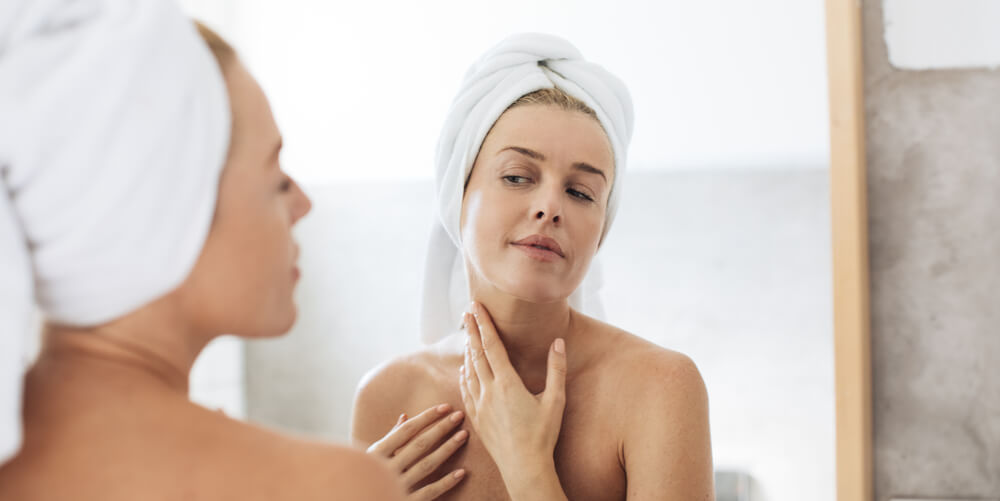 How can you tell if your skin is dry? The tell-tale signs of this skin type include patches of scaliness, excessive itching, and rough texture. For some people, dry skin is a seasonal occurrence. It's possible to have dry skin in winter but normal skin in the summer months. In this case, your skincare would have to be adjusted accordingly depending on what time of the year it is.
In addition to the above-mentioned symptoms, you might also experience feelings of skin tightness, scaling or peeling of the skin, fine lines, and cracks that may bleed as advanced symptoms of extremely dry skin.
What causes these symptoms in dry skin types? Well, having dry skin means that your body doesn't produce enough natural oils to keep it moisturized. Your body's natural sebum-producing glands — sebaceous glands — are underactive. With dry skin, you need to be extra careful about your moisturizing options and showering habits (hot showers are a no-no!). There are three types of moisturizing ingredients in skincare that benefit dry skin types. Ideally, your skincare products should have a combination of these: 
Occlusives — These function by creating a protective barrier around your skin's surface. This barrier helps keep the moisture locked inside your skin, keeping it hydrated. Examples of occlusives in skincare are petrolatum, plant oils, and ceramides.
Humectants — A humectant brings moisture to your skin by attracting it from your surroundings or bringing it to the surface from your deeper layers. Hyaluronic acid, glycerin, and aloe vera are good examples.
Emollients — An emollient moisturizes your skin by filling in its dry cracks. Good examples of emollients include shea butter, safflower oil, and lanolin.
How a Body Butter Can Benefit You
If you have dry skin and experience the same symptoms as stated above, a body butter would be the better option for you. Here are a few ways in which it can benefit your dry skin:
Owing to their occlusive properties, a body butter forms a strong barrier over your skin to seal in moisture. It can shield your skin from harsh winds and diminish the feeling of irritation.

The formula is designed to stay on your body for much longer compared to a lotion. So, it's perfect for softening the feel of your dry skin and making it appear smooth.

By massaging your dry skin every day with body butter, you can help diminish the look of aging on your skin, including wrinkles, fine lines, flakiness, and hyperpigmentation.

Body butters are also spectacular for alleviating dryness in the rough areas of your body, including your knees, elbow, and heels. Unlike body lotions, their rich consistency can give you skin that feels silky-smooth.

Say goodbye to separate hand and foot creams because a body butter will be your all-in-one go-to! These formulas are perfect for moisturizing your hands, including your nails, and can alleviate dryness on your feet too.

In the body butter vs lotion debate, the former is the better option if you're dealing with irritated skin. Whether it's because of waxing, exfoliating, shaving, or just general dryness, a body butter can help ease the feeling of irritation.
Oily, Acne-Prone Skin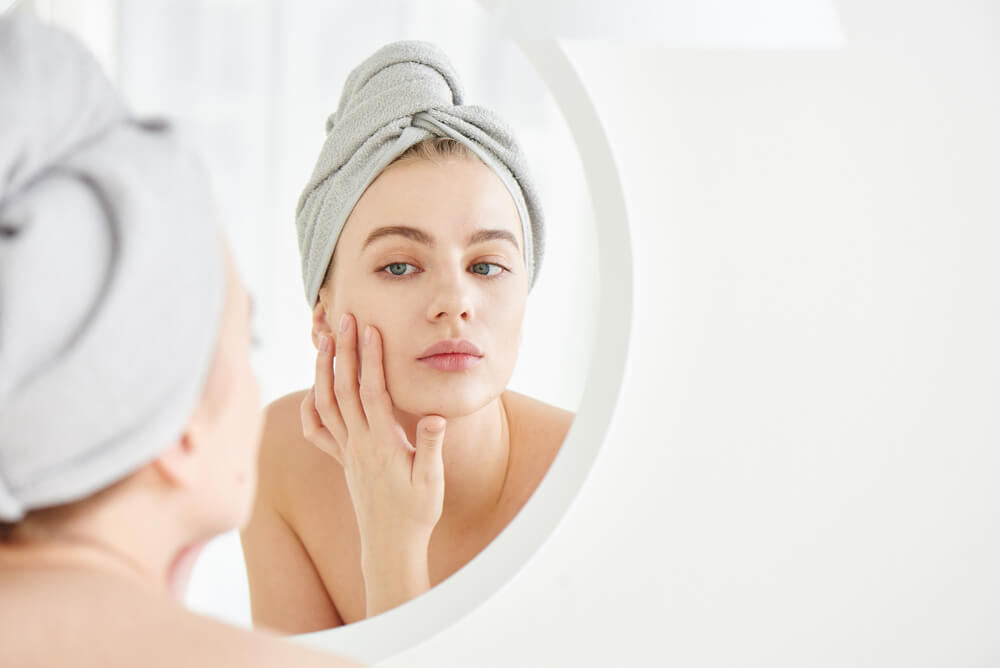 Now, let's talk about body butter vs lotion from the perspective of an oily, acne-prone skin type. First, it's important to establish that just because your skin is oily doesn't mean you get a pass on moisturizing. There's a difference between how much oil your skin has vs moisture.
When your skin is exposed to harmful pollutants and harsh UV rays, it damages your skin's moisture barrier. This can result in an overproduction of oil while your skin suffers from loss of hydration. So, you could actually have much shinier, greasier skin while you decide to skip out on your daily moisturizing routine.
The tell-tale signs of oily skin include a shiny appearance, obvious pores, thick-looking skin, frequent occurrence of pimples, and clogged pores.
In this scenario, your body doesn't need excess oil or heavy, rich creams to help moisturize your skin. You would benefit from using a body lotion that's mostly water and is easily absorbed. Let's take a look at how a body lotion helps oily, acne-prone skin: 
How a Body Lotion Can Benefit You
Body lotions are a great moisturizing option for oily skin types. Since lotions are a mixture of oil and water, they can better penetrate your skin.

In the body butter vs lotion debate, if you're looking for convenience and quick results, lotions are your best bet. They're great on the go as they absorb quickly and won't leave you with slippery, greasy skin.

Body lotions have primarily humectant properties

, often infused with skincare ingredients that can benefit you in the long run. It's a good idea to check out body lotions with hyaluronic acid, botanical extracts, and ceramides to amplify your skin's capability to hold moisture in.

If you're a tan lover, lotions offer a great way to extend the life of your self-tan. When your skin is properly hydrated, it means your tan will stay on for a longer period. Just be careful not to put on lotion until you've showered off the tan first.

Lotions are also the better option when the atmosphere around you is humid and your skin can retain some moisture naturally. 
Body Butter vs Lotion: What's the Verdict?
Both body butter and lotion have their separate place in the skincare realm. It all depends on what your skin type is, which season it is, and what type of skin feel you're going for. There is no universal option for the best moisturizer because, for everyone, it's a different experience.
We hope this read helped you decide whether you need body butter or lotion to meet your skin's moisturizing needs. 
Click here to browse more of Celestolite's exquisite bestsellers.