Perhaps you have heard of one of the latest skincare ingredient trends to hit the beauty industry, meteorite powder? Well, if you haven't then you need to start making room in your online shopping cart! Meteorite powder skin care is truly one of the most effective ingredients to hit the market.
You're probably wondering exactly what is in meteorite powder that makes it so effective. It all comes down to the ingredient's mineral content. 
Celestolite includes this signature ingredient in every one of our collections. Giving what we like to call the "star" experience, if you catch our drift! Let's take a closer look at what meteorite powder consists of and how it results in helping to create incredibly effective skin products!
So What's in this Stuff?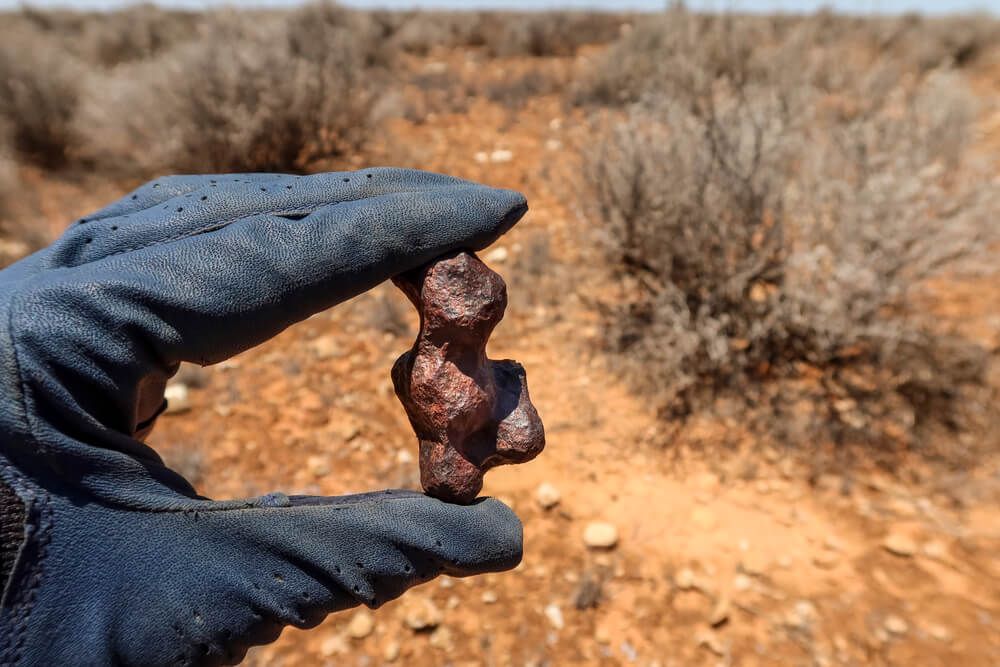 Meteorite powder skin care is dependent on the various minerals that make up the powder. Research has found that when applied topically, this powder has fantastic results on the skin, which is why we at Celestolite love it. It all comes down to the iron, magnesium, calcium, and silicon that it's made of. Let's get into it!
Iron
Meteorite powder is rich in iron and we are so thankful for it! Iron is the reason why you're skin isn't dull or dry. It has the ability to activate B Vitamins which is incredibly important for healthy skin and helping the skin age beautifully.
Iron has the ability to give you a glowing complexion by increasing the flow of oxygen to the skin. This in addition to its numerous overall health benefits is more than enough of a reason to want to include meteorite powder in your skin care routine ASAP!
In addition to the iron in meteorite powder, you'll find another form of iron, iron oxides, in our Jade Spectra Collection.
Magnesium
Just like iron, magnesium is something that our bodies absolutely need. Here at Celestolite, we'll be the first to tell you that minerals and vitamins are super powerful and effective at treating various skin concerns. Magnesium, in particular, has an array of health benefits! Magnesium can help reduce oil production, reduce wrinkles, and can help the body to absorb calcium.
This is where the power of meteorite powder skin care shines through. By using this powder we are able to include more ingredients that can do wonders for our skin! We're also able to treat all types of skin and types and concerns.
Calcium
We're sure you're well aware of how important calcium is for our bodies. From the moment we're born and well into old age, our bodies are dependent on calcium for building and maintaining strong bones and teeth. When speaking on the skin, calcium is extremely important in the distinction of skin keratinocytes, the main cell in the epidermis, which is an important part of skin cell turnover.
As we age, the turnover rate for keratinocytes slows down considerably. By incorporating calcium into our skin care routine we are able to help encourage turnover and add a boost to fighting the aging process.
Silicon

   
People hear mixed messages regarding silicon but that's because they are usually confusing it with silicone. Silicone is a man-made substance that is created from silicon and other ingredients. This ingredient is what is included in many hair and skin products.
Silicon, on the other hand, is a natural substance that is found abundantly in the earth's crust. This mineral, when combined with oxygen, becomes silica which has numerous skin benefits.
Strengthening and tightening the skin, absorbing bacteria and debris from the skin, and helping the skin retain moisture!
Additionally, silicon is integral to elastin, and collagen needs silicon for production. These make the skin firm and youthful-looking.
So What Now?
So now that we know the wonders of meteorite powder, let's learn about meteorite powder skincare. This is where Celostolite shines! In each of our collections, we include meteorite powder in addition to several other skin-friendly ingredients. Celestolite goes the extra mile by pairing this wonder ingredient with soothing botanicals to help target common skin concerns.
Here are some of the most popular Celestolite skin care collections that are formulated with our meteorite powder!
Venus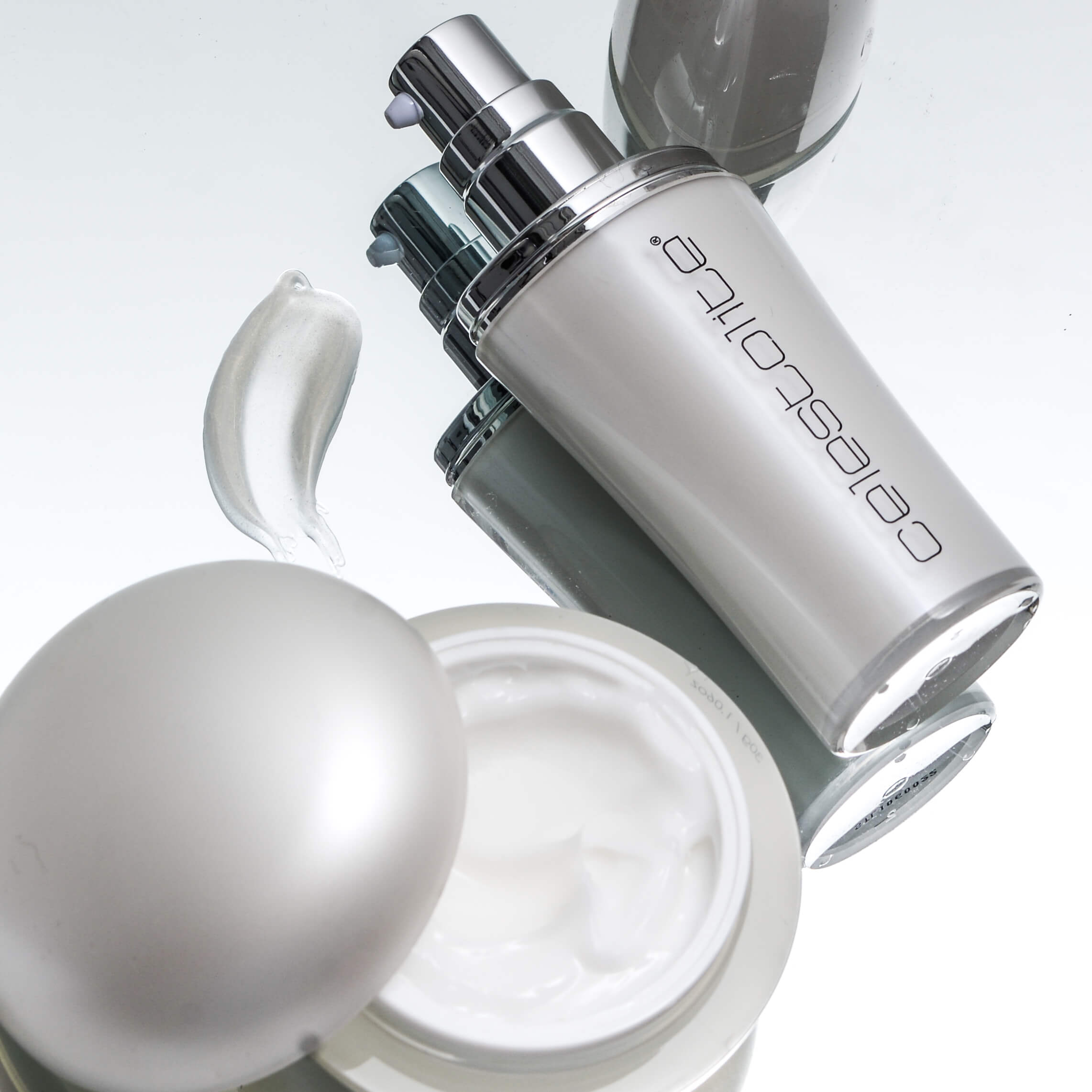 For our sensitive skin friends, meteorite powder skin care may seem like something you would try to stray from, but this doesn't have to be the case. In fact, Celestolite has created a line specifically for skin that tends to be on the sensitive side.
Included in this collection are our super gentle Venus Cleansing Mousse, Venus Sensitive Eye Serum, and Venus Sensitive Eye Cream, all utilizing the power of meteorite skin powder! Our cleanser is designed to leave the skin clean, bright and clear instead of dry and agitated. For some with sensitive skin, the eye area can be even worse! That's why our cream and serum are both made to nurture an already delicate part of our skin.
Estrella
For individuals noticing that their complexion is looking a little dull, our Estrella collection is sure to help! Included in this collection are two creams that work amazingly!
The Estrella Awakening Day Cream and Night Cream are two products that are meant to increase your natural beauty while decreasing the look of fine lines and wrinkles. Of course, meteorite powder is in both of these products! The Awakening Day Cream includes Sodium Hyaluronate which is great for assessing dryness and replenishing the skin. The night cream gives skin the ultimate overnight experience with Shea Butter and Sunflower Seed Oil.
Luna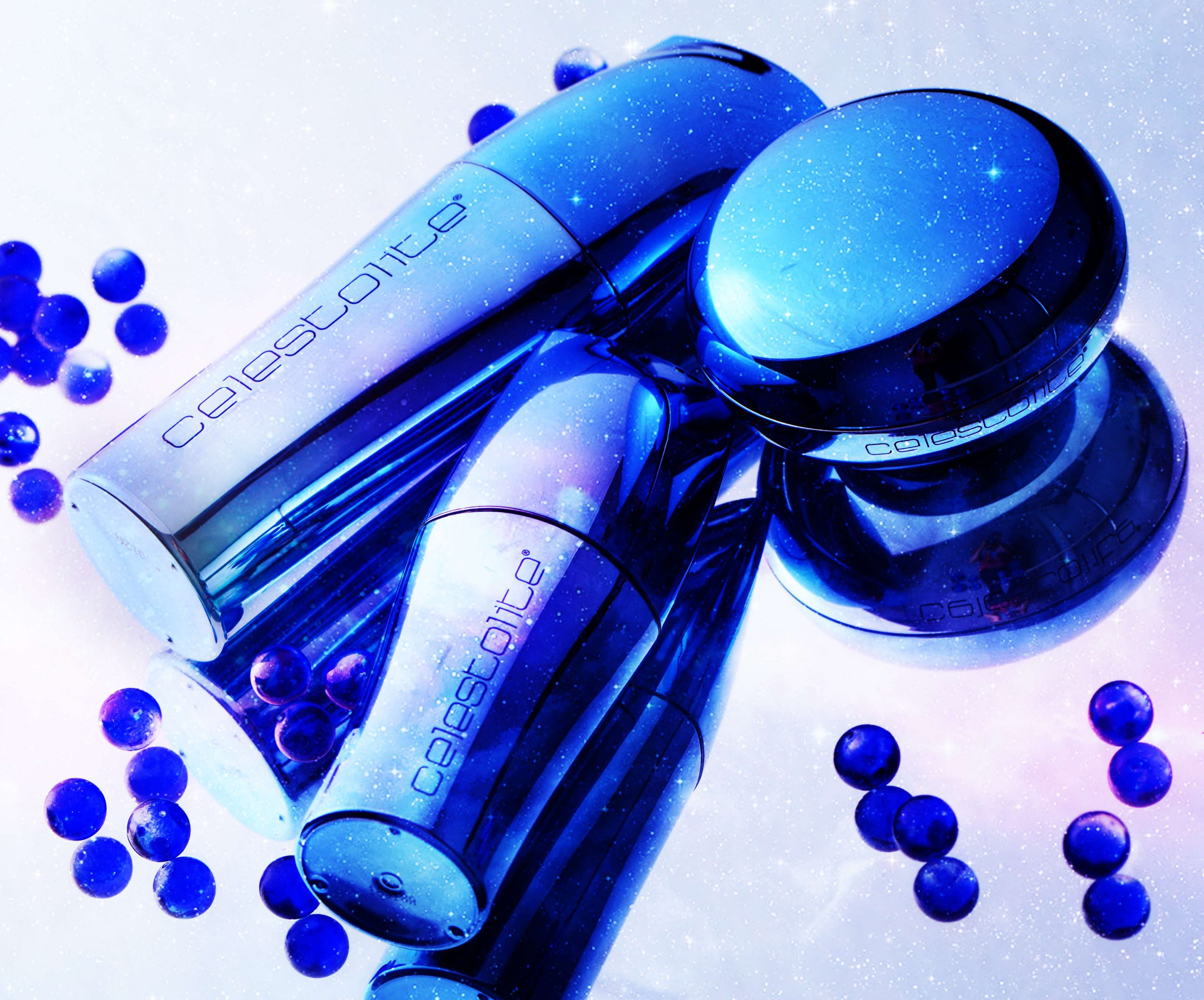 Perhaps you're looking for a product that can give you more of a youthful and energetic complexion. Right behind our Estrella collection is our Luna line! Meant to add another level of radiance and luminosity to your skin, our Luna collection uses meteorite powder, warming actions, and concentrated vitamins and minerals to turn up the notch on our skincare.
Our best seller from this line is our Luna Mineral Cream. Here, Celestolite has paired meteorite powder with vitamins and minerals needed to keep skin healthy and balanced.
Jade Spectra
Our Jade Spectra line is geared towards individuals looking to moisturize and soften their skin and reduce the signs of aging. The star ingredients of this collection are green tea extract, peptides, collagen, superfruits and our innovative meteorite powder!
For a daily skin treat, our Jade Spectra Bead Serum is the perfect addition to any skin care routine. This serum will help to smooth and soften fine lines and wrinkles while also giving your skin a tighter appearance.
Pair this serum with our incredibly effective Jade Spectra Phyto Silk Moisturizer to truly reveal a more healthy and youthful complexion in time!
Cosmic Firming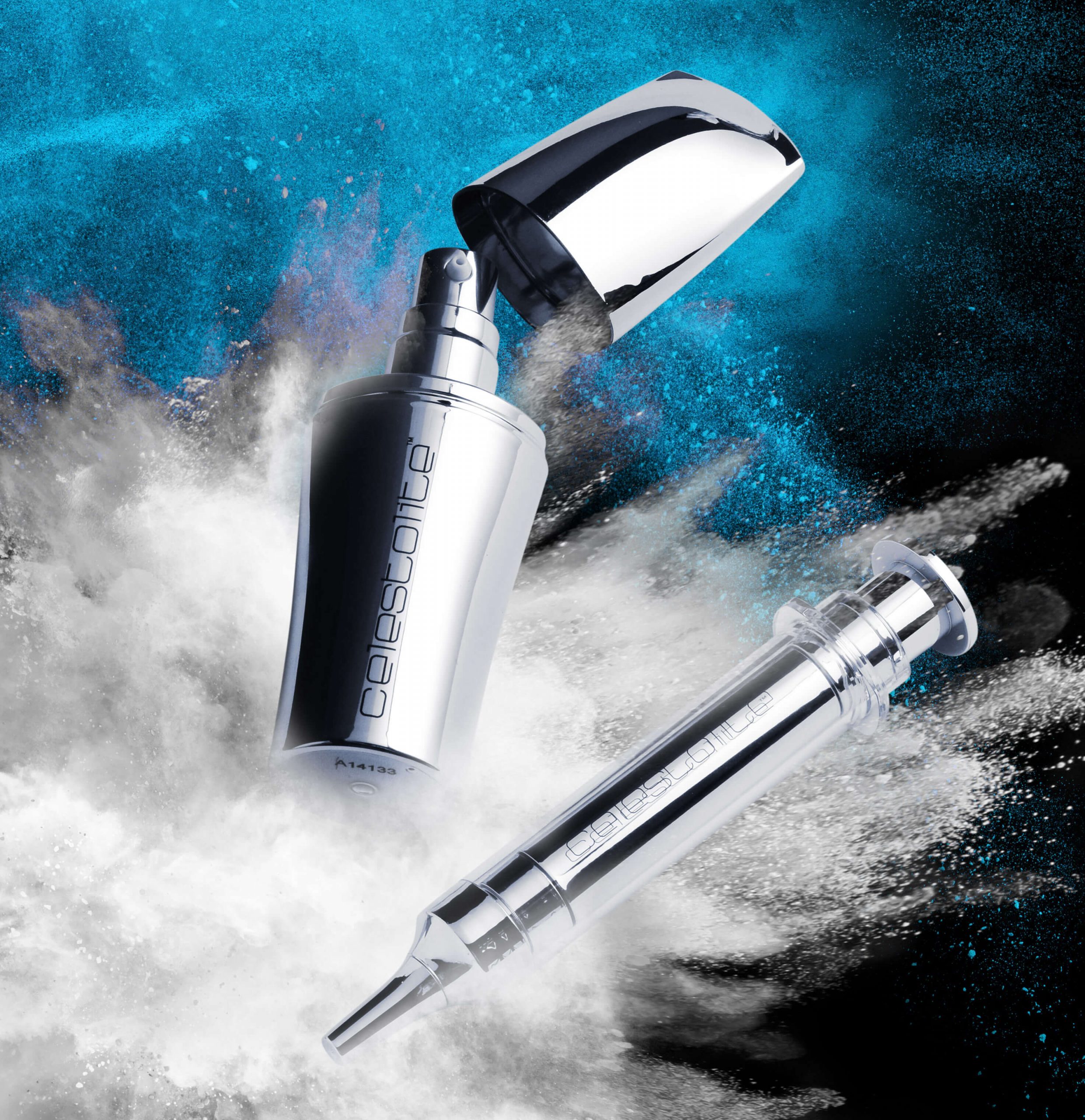 For skin that needs improved elasticity and firmness, our Cosmic Firming Collection was made especially for you. This is where the power of meteorite powder skin care shines through! Since meteorite powder contains substances that aid in the production of elastin, it is perfect for this line since firmer skin looks younger and healthier.
For more directness with our problem areas, the Cosmic Wrinkle Plumper is a fantastic option. Formulated with Vitamin B3 and a peptide complex to assess deep-set wrinkles. Not to mention the onslaught of minerals that make up meteorite powder that helps to fight the signs of aging, as well.
Nova
Fighting discoloration or slow fading marks? Let Celestolite's meteorite skin care collection, Nova Bright, come to the rescue! Created to impart radiance and balance into your skin, this collection is great at helping to reveal your natural beauty.
Formulated with meteorite powder and other skin-loving ingredients, this line also serves to protect the skin from potential environmental damage. Our Nova Bright Skin Cream with SPF 30 is a great example of this! Made with Aloe and glycerin to soothe and moisturize the skin while also fighting off harmful UV rays, this day cream is a skin care regimen must have!
Mars Magnetic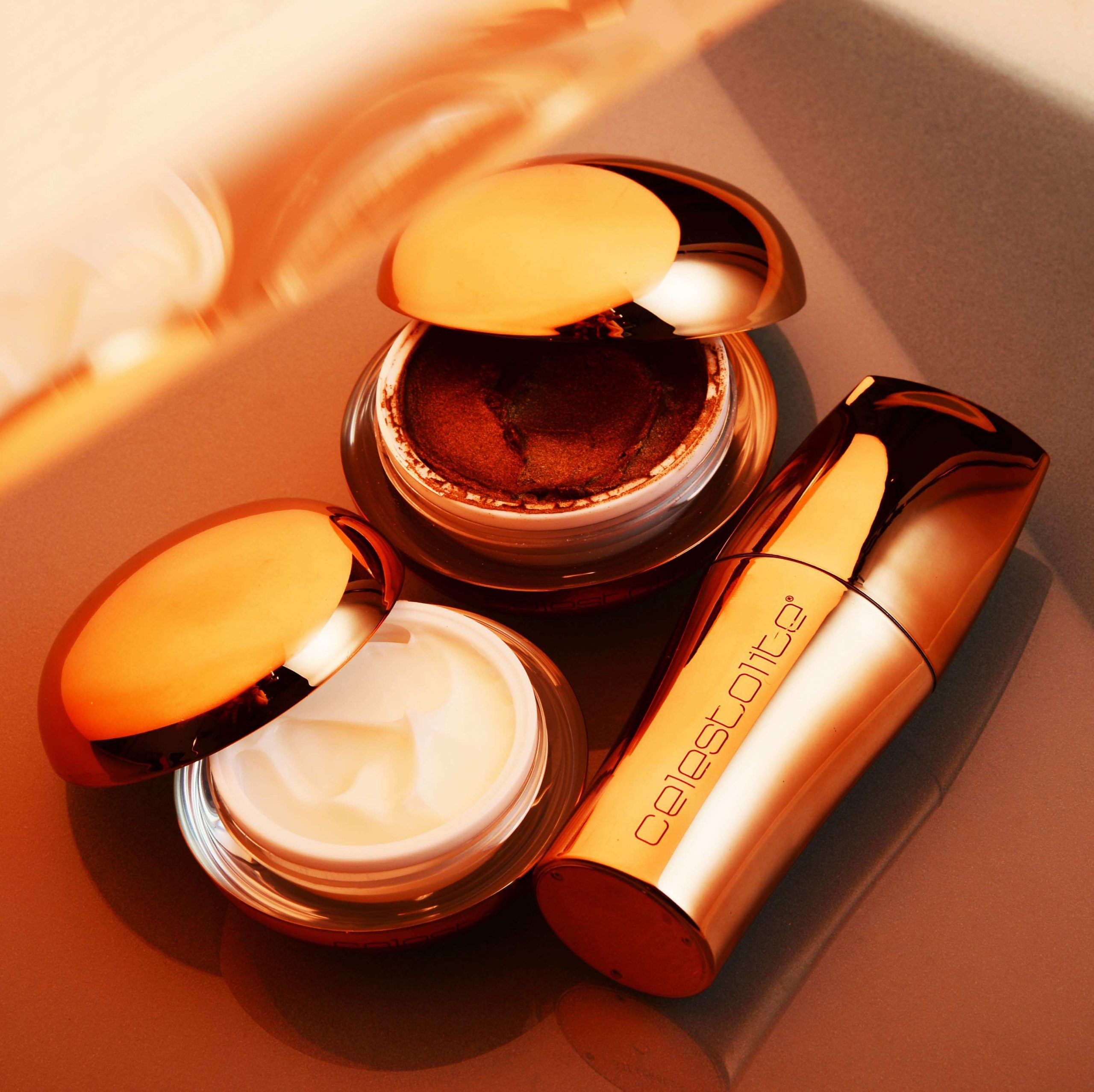 For skin that is a little past the point of dry and is visibly dehydrated and drained, our Mars Magnetic collection is the one to call on! Formulated with nurturing botanicals and ingredients like Rosemary, Sodium Hyaluronate, and Glycerin, this entire line is meant to replenish and refresh your skin for a healthy and happy complexion.
Here's the scoop – two of the most popular products from the line are the Mars Anti-Gravity Mask and the Mars Stellar Serum. Use them in conjunction to create incredible results! The mask contains coconut oil and sunflower seed oil to help moisturize and hydrate the skin as we start that path towards hydrated and balanced skin.

Body Care
Thought our meteorite powder skin care was strictly just for our face? Nope! We incorporate meteorite powder in our body products too. While our body care line is not extensive, these products will keep your skin nourished, soft, and smooth.
Celestolite's body care line includes the Radiant Body Exfoliant and Revitalizing Body Butter. Ever find your skin irritated from abrasive exfoliants? This one won't leave you feeling that way. Our Radiant Body Exfoliant is created with sea salt to provide a dull but effective exfoliation process.
Our Body Butter uses Shea Butter to lock that moisture in promote smooth, super moisturized skin!
What Do I Do Now?
You're probably thinking you need to completely throw out your entire skin care routine and get new one with meteorite powder, huh?
You may be right.
Meteorite powder skin care is a new wave of innovation. It takes our skincare products and their efficacy way up!
No worries, though! We at Celestolite completely understand. Introducing new skin care products can be a big challenge to a lot of people, however, the results speak for themselves.
Perhaps starting with one of our serums or concentrated wrinkle creams as a preliminary introduction to meteorite powder skin care could be a great starter to meteorite powder.
Being gentle, but importantly being patient, with your skin will yield consistent and accurate results over time. Do what you can to understand your skin type and what your skin likes and doesn't like. 
Now You Know!
So, there it is! The skinny on the newest skin care ingredient that's taking the industry by storm. The good news is this isn't just a "trend" for trend's sake. Meteorite powder can help maintain the health of our skin and combat the signs of aging – science has proven it. 
While we know that aging is a natural and beautiful part of life, this doesn't mean that we can't do a little tweaking when we can. For example, a serum here and there or a mask once or twice a week truly has the power to transform your skin!
Meteorite powder skin care has taken the anti-aging skin care game to a new level, making it even that much easier to attain our goal of younger, more youthful skin! Here at Celestolite, we pride ourselves on providing high-quality skin care options for anti-aging that are not invasive, yet just as effective.