Most dermatologists would agree that one of the best ingredients out there for brightening, tightening, and generally supporting the complexion is vitamin C. It's a powerful active ingredient that can do so much for the skin, making it no surprise that more and more people are investing in skincare with vitamin C. 
However, with vitamin C being as potent as it is, is it safe to use skincare with vitamin C every day? What's the best way to incorporate this ingredient into your routine so that you can enjoy maximum benefits? Read on – Celestolite is about to explain!
Do You Really Need to Be Using Skincare With Vitamin C?
Vitamin C is a true multitasker, making this an ingredient that so many people benefit from. As an antioxidant, it's able to repair the look of free radical damage in your skin. This is how it's so effective at reducing the visible signs of aging. From smoothing away the appearance of fine lines and wrinkles to tightening a loose and sagging complexion, it's well worth trying skincare with vitamin C if you've been searching for a way to make your skin look younger and healthier.
Vitamin C is also a must-try if you have any dark spots or discoloration on your skin. This is caused by the skin producing excess melanin, the pigment that gives your skin its color. When the skin produces too much, the extra pigment clusters together in certain areas of your skin. This gives those parts of your skin a darker color. Vitamin C is able to hone in on those darker patches, fading their appearance to balance out your overall complexion.
Even if you aren't dealing with wrinkles or dark spots, vitamin C is still a very worthy ingredient to add to your skincare routine. It helps skin cells to feel strengthened and supported as they carry out their daily tasks, which gives the skin a natural radiance.
Can You Use Skincare With Vitamin C Every Day?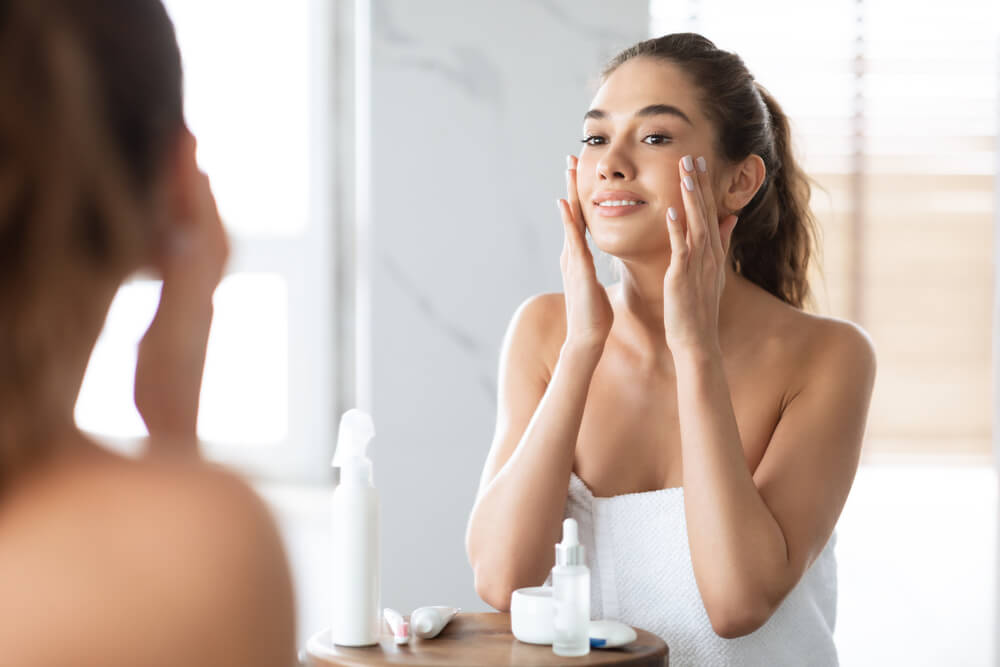 Understanding how often to use skincare with vitamin C can be a little confusing. This is mainly because there are several different forms of the ingredient that are used in skincare formulas. Some can be overly potent, which may sound like a good thing at first. However, these products will only irritate your skin if used daily, especially if your skin is dry or sensitive.
With that said, vitamin C is most advantageous when used every day. This allows the antioxidant to gradually build up in your skin, which is what you need if you want to experience the results mentioned above. 
However, in order to do this, you need to be using gentler products that have been designed for daily use. And that's where Celestolite's vitamin C-infused formulas come in…
The Best Vitamin C Skincare Products for Daily Use
From cleansers to toners to moisturizers, vitamin C can be found in a huge array of different skincare products. There's nothing wrong with adding vitamin C to multiple stages of your daily skincare routine, but the most important vitamin C product to use would be a serum.
Why? Because serums are able to carry a high concentration of the ingredient. They're also able to penetrate deeper into the skin than thicker products. This enables more of your skin cells to benefit from the ingredients within.
The Renewing Vitamin C Serum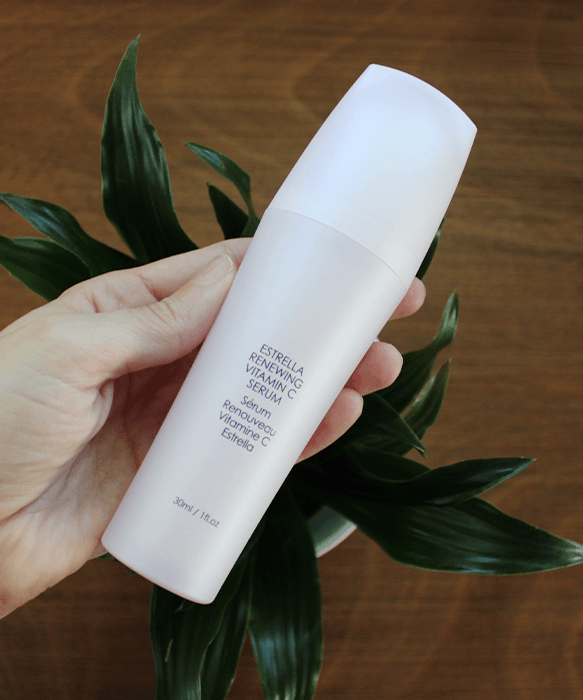 Ideally, look for a serum that contains more than one form of vitamin C, such as Celestolite's Renewing Vitamin C Serum. The primary form of the vitamin in this serum is tetrahexyldecyl ascorbate. Studies have found this derivative to be easier to absorb by the skin than other forms of the vitamin. This is down to how tetrahexyldecyl ascorbate is oil-soluble rather than water-soluble. As a result, it's able to work its way through the skin's lipid barrier. Unlike other types of vitamin C, it's also highly stable. This means that it won't start to degrade as soon as you open the product.
Our vitamin C serum also contains vitamins A and E to ensure that your skin benefits from a full vitamin spectrum. You won't need to worry about all of these vitamins irritating your skin either since we've used gentle forms of each. We've also infused the serum with wheat germ oil, which will keep your skin feeling soft and moisturized.
The Cosmic Firming Serum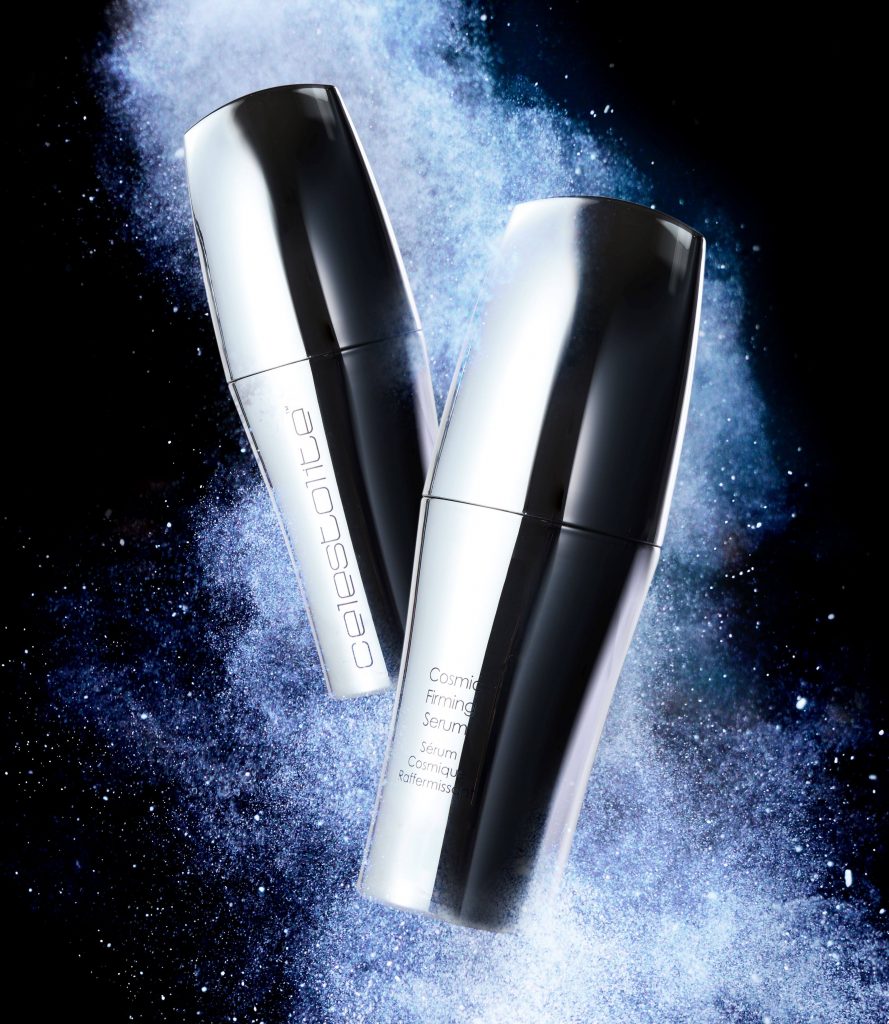 If you'd prefer to try using the purest form of vitamin C, then that's where the Celestolite Cosmic Firming Serum can help. 
This formula contains ascorbic acid, which is the form of the vitamin that your skin can immediately put to use. Other forms of vitamin C are converted into ascorbic acid once they're absorbed by the skin. This is how ascorbic acid can often produce results much faster.
As we mentioned earlier, skincare with vitamin C offers up a wide range of benefits. One of these is its ability to reduce the visibility of aging, and that's exactly what our Cosmic Firming Serum focuses on.
It combines vitamin C with several other ingredients that have been proven to help give the skin a younger-looking finish. DMAE, which is on the ingredient list as dimethylaminoethanol tartrate, is one of these. Research shows that this ingredient is extremely effective at smoothing away the look of fine lines and deeper wrinkles. Even better, it works quickly, although you'll still need to use the serum daily to maintain results.
Vitamin A makes an appearance in this formula too. It's joined by sodium hyaluronate and glycerin to keep your skin looking plump and firm.
The Estrella Eye Serum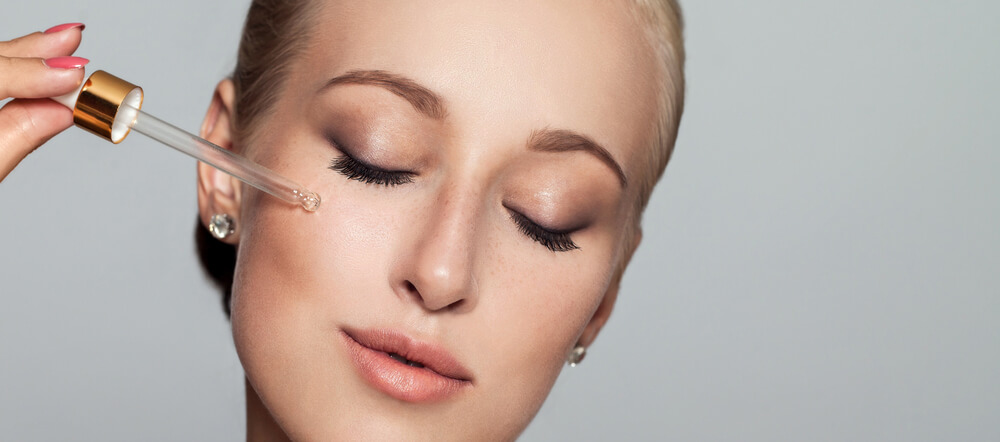 The two serums that we've featured above are designed for facial use. While your eye area is considered to be a part of your face, the thin and delicate nature of the skin here means that it's often best treated separately. It benefits from vitamin C too, but the ingredient needs to formulated in a special way to make sure that it doesn't cause irritation.
That's why we created our Estrella Eye Serum. In addition to ascorbic acid, it also contains a number of ingredients that will soothe and relax the feel of the skin. These include calendula flower extract, aloe vera leaf extract, and multiple peptides.
We've also added some licorice root extract to this formula as well. This botanical has been proven to reduce the appearance of discoloration, which often occurs around the eye area. It helps to soothe the feeling of inflammation too, keeping the skin looking calm and happy.
The Best Vitamin C Skincare Products for Weekly Use
It's important to use skincare with vitamin C every day if you want to see results as soon as possible. However, it's also a good idea to give your complexion an extra boost with a weekly vitamin C-infused face mask:
The Luna Lava Mask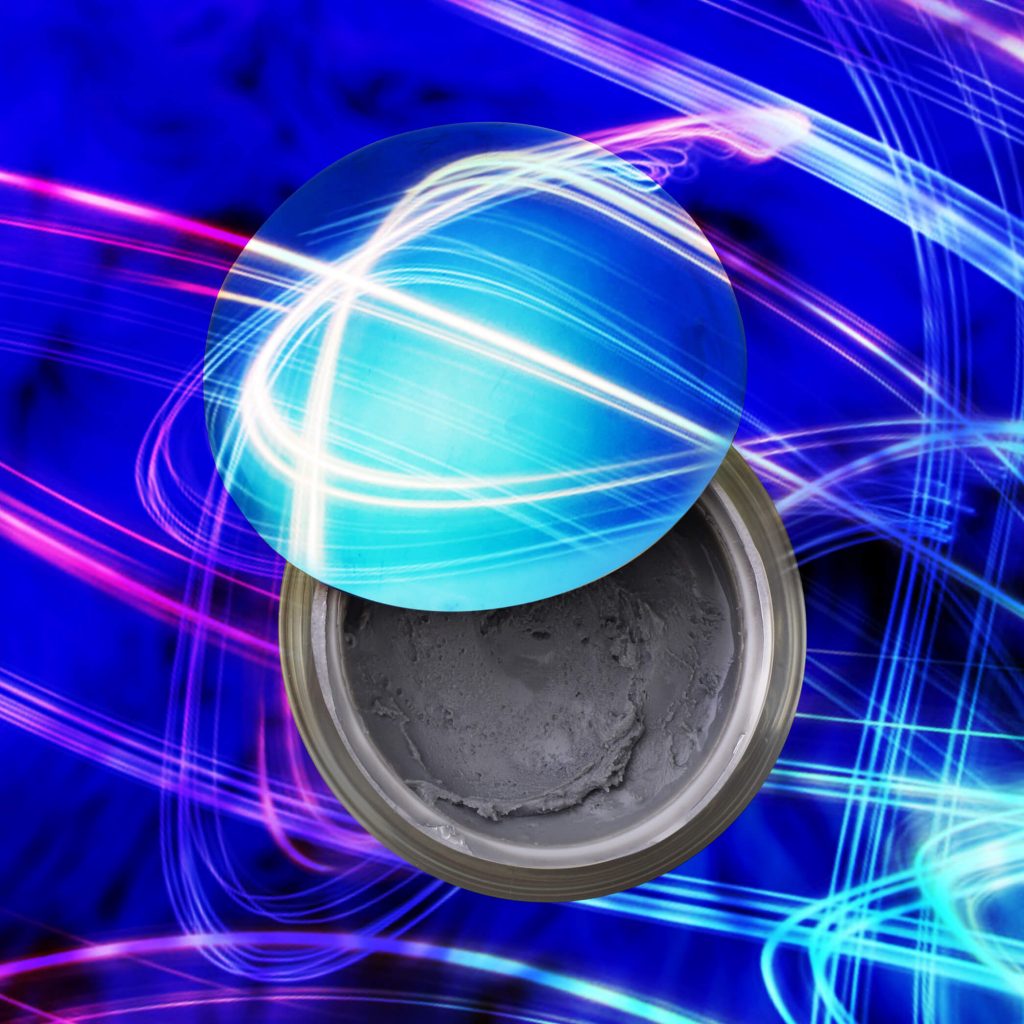 Loved for how it leaves the skin feeling deeply detoxified, the Luna Lava Mask from Celestolite boasts a formula that's packed full of skin-loving ingredients, including vitamin C. This mask has been designed to brighten and purify the complexion, and vitamin C plays a big role in this.
It's combined with vitamins A and E, both of which are also powerful antioxidants. You'll notice coffee seed extract in this formula too, which helps to perk up and energize the complexion. It's joined by arnica Montana flower extract to soothe the feel of the skin, along with our signature ingredient, meteorite powder, to add radiance to the complexion.
What makes this mask extra special is how it gently heats up as it's applied to the skin. It emits a subtle warmth that leaves the pore openings feeling looser and more relaxed. This then allows the mask's ingredients to quickly and efficiently soak into the skin.
If you'd like to enhance your spa-like masking session even more by intensifying the heat that this mask provides, treat yourself to the Luna Thermal Activator too. Infused with peptides and hydrating humectants, this mask further pampers the skin to bring about even better results. Wait until you've spread your face mask over your skin before applying a few drops of the Luna Thermal Activator over the top. Blend it in with your mask and then sit back and enjoy!
Mixing Vitamin C With Other Actives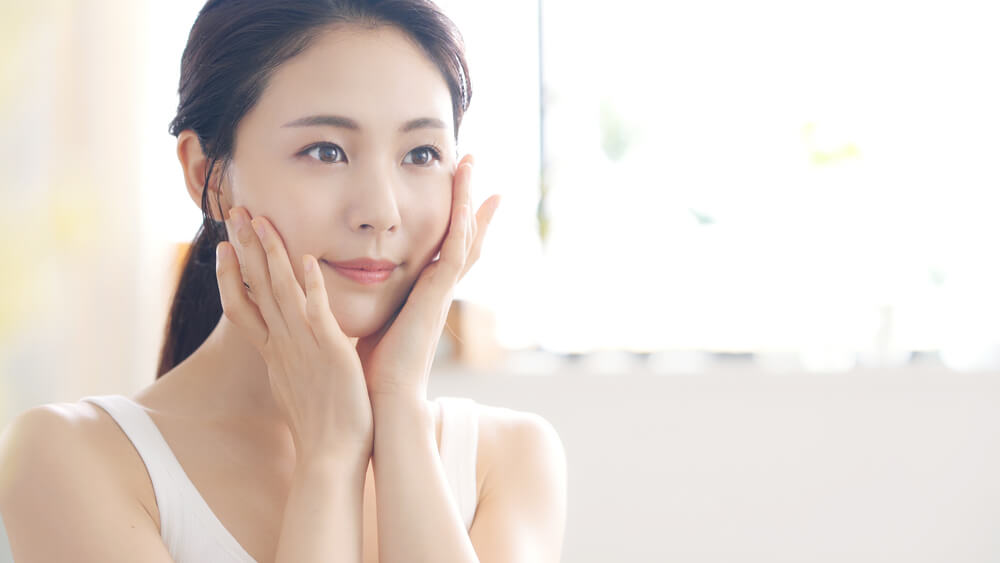 As mentioned earlier, vitamin C is safe for daily use. In fact, daily usage is best when it comes to this ingredient. 
However, when using skincare with vitamin C, you need to be aware of the other ingredients that you're mixing it with. Since vitamin C is an acid, combining it with other acids can interfere with the vitamin's pH level. This basically deactivates the vitamin and renders it useless. In extreme cases, the combination of acids could end up irritating and damaging your skin.
This mostly applies to hydroxy acids. Both alpha-hydroxy acids, such as glycolic acid and lactic acid, as well as beta-hydroxy acids, such as salicylic acid, shouldn't be used at the same time as vitamin C. This doesn't mean that you can't have both in your skincare routine – it simply means that you need to be mindful of when to apply each ingredient.
For example, if you're using vitamin C in the morning, save your other acids for evening use, or vice versa. Another option would be to use vitamin C every other day instead of daily. Then, apply your other acids in between. 
How to Store Skincare With Vitamin C
Some forms of vitamin C can be quite unstable. Even the derivatives that are known for their stability can still oxidize faster than other ingredients. This makes it important to properly store your vitamin C products. This will help to prolong the shelf life of each formula while also allowing each product to retain its true potency.
So, how should you be storing your skincare with vitamin C? 
Find a location that's cool and dark. Both heat and light can interfere with the ingredient, making it important to prevent both of these from accessing your vitamin C products. It's much easier to do this if the products that you're using are packaged in an opaque container that blocks light, which is what you'll find with all of Celestolite's vitamin C skincare products.
Summary
While some skincare ingredients aren't suitable for daily use, vitamin C is definitely not one of these. In fact, the more you're able to use the vitamin, the better it will work. This is why many people use their vitamin C products twice a day. So long as you pick a high-quality formula with a stable form of the ingredient, you'll be able to enjoy all of the many benefits that vitamin C can provide.
Click here to explore more potent skincare bestsellers from Celestolite.