What does your regular skincare routine look like? Most people just do the basic three; cleansing, toning, and moisturizing.
But just washing your face and keeping it soft doesn't cut it. You need a product that can help you tackle your particular skin concerns, whether these may be breakouts, dark spots, dryness, blemishes, or an uneven tone.
This is where serums shine! If you're new to this realm of skincare, Celestolite is here to guide you. This article focuses on the many benefits of serums and which formula from Celestolite would suit you best depending on your skin type. Let's dive in!
What is a Serum?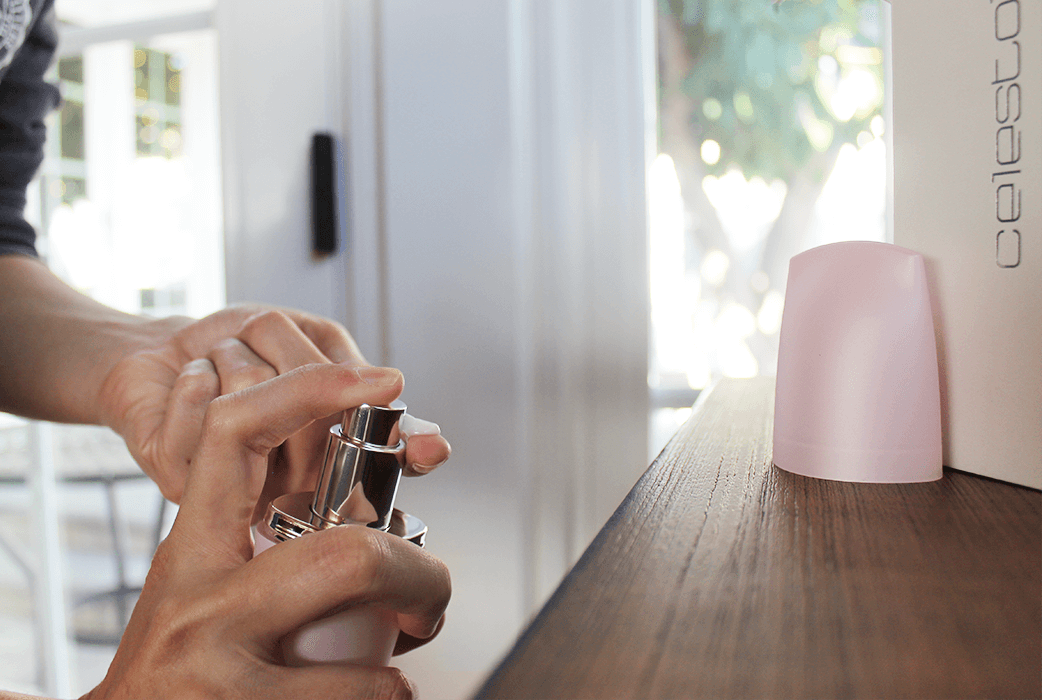 If you're not sure what serums are and what they do, let's get you up to speed! A serum is an addition to your skincare routine that comes after toning and before moisturizing.
You might think that if you're using a moisturizer, you don't need a serum, but you'd be wrong. Serums are special light formulas packed with active ingredients — Vitamin C, Hyaluronic Acid, Peptides, etc. — to tackle different skin concerns. Each formula has a few select ingredients present in high concentrations to deliver powerful, effective results.
Serums should always be used before moisturizers because they are lighter and absorb quicker in your skin. Never forget the golden rule of applying skincare products; light to thick.
Why Should You Use a Celestolite Serum?
Celestolite serums are made from meticulously-researched ingredients to revolutionize the realm of skincare. We've created powerful formulas to target areas of concern and help you get the results you've always wanted from your skincare. By incorporating a serum into your routine, you're bound to notice the following changes:
Increased Levels of Moisture in Your Skin
If you suffer from very dry skin, you'll benefit significantly from adding a serum before your moisturizing step. A hydrating serum formula that's packed with ingredients like Glycerin, Hyaluronic Acid, and Vitamin E will help significantly increase moisture levels in your skin.
Remember to keep your skin damp before applying a serum to seal in more hydration.
Reduced Visibility of Aging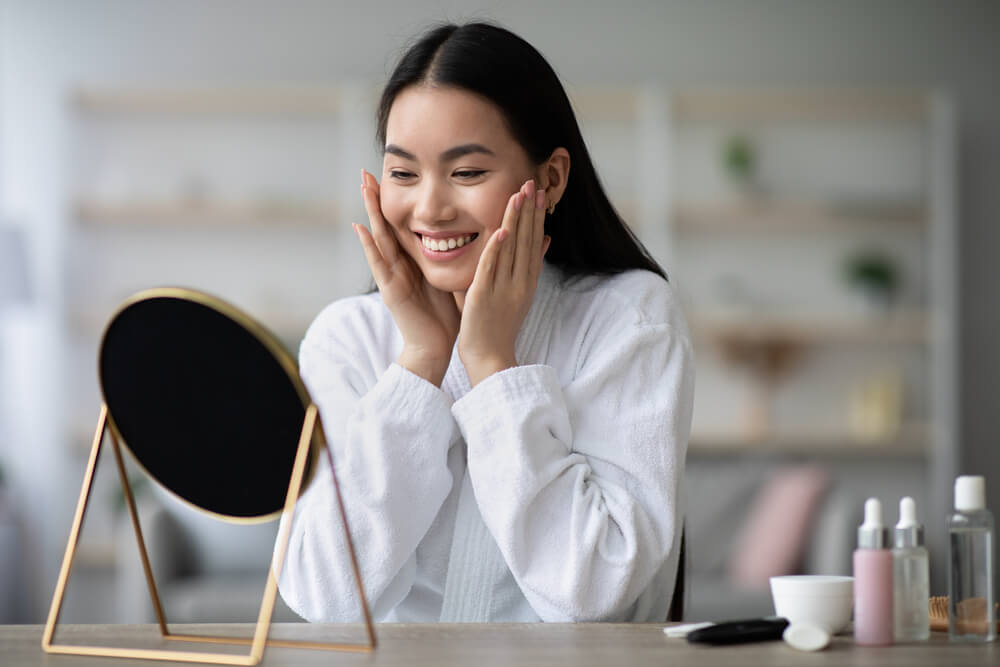 Pull your skin and let it go. Does it bounce back quickly? You have young skin. If it doesn't, natural aging is the primary culprit.
Our skin gradually loses its elasticity as we grow older. And while skin aging can't be stopped, it can be controlled. Face serums play a pivotal role in making your skin appear younger than before. A formula that's enriched with Vitamin C, Retinoids, and Hyaluronic Acid can help reduce the look of wrinkles, fine lines, and other aging concerns. 
Tone and Texture Will Appear Enhanced
Serums that contain powerful ingredients, like AHAs, Vitamin C, Niacinamide, and Peptides, can help relieve dry skin and reduce the look of puffiness. They work to brighten up your tone and enhance your texture. Your complexion will appear revitalized, making you look more youthful and fresher than before!
Alleviated Appearance of Dark Spots
Dark spots can occur for many reasons; being out in the sun too long without protection, not getting enough rest, underlying medical conditions, and even as a side effect of certain medications.
If you've never known how to take care of this issue, we'd like to introduce you to the world of serums! Formulas that are enriched with Glycolic Acid, Licorice Root, and Mandelic Acid work exceptionally well to ease the look of dark spots, making your eyes appear more radiant.
Exfoliated Skin
Another great benefit you might not have expected from serums is that they can help exfoliate your skin.
Have you heard of chemical exfoliants before? You might not be used to them but they're gaining a lot of traction. Exfoliating serums use a powerful blend of AHAs and BHAs to remove the dead layer of skin and give it a smooth, refreshed appearance.
Diminished Look of Acne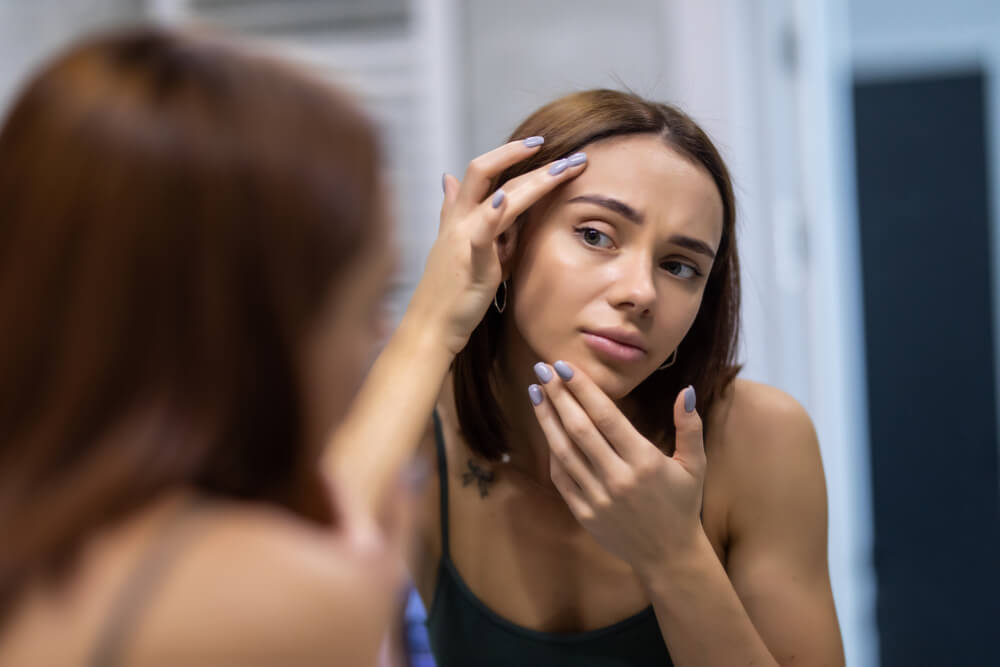 Acne breakouts can be very tough to deal with. Not only do they make you feel uncomfortable, but they also put an extra toll on your beauty routine. You end up having to vet every product for possible aggressors that could make matters much worse for you. And you might feel like steering clear of serums altogether.
But there are many serums specially formulated with Salicylic Acid, Retinol, and AHAs that can help. These formulas significantly improve the look of your acne by taking care of the bacteria responsible for it.
The Best Celestolite Serums for Different Skin Concerns
No matter what your skin concern is, you'll find a Celestolite serum for it! We've created an extensive range of superior formulas to give your skin a sensational treatment. Let's talk about which Celestolite serum you should be using for your specific skin concern: 
Dryness & Sensitivity
Do you have dry skin or is it dehydrated? Yes, there's a difference between the two. Dry skin shows signs of scaliness, itching, and coarseness. These symptoms can also be the cause of redness and irritation.
Dehydrated skin also involves dry, itchy patches. But you'll additionally notice an increase in dullness, sunken eyes, and wrinkle spots. And there's another tell; pinch the skin on the back of your hand for a few seconds and let it go. If it bounces back immediately, you're not dehydrated. If it bounces back slightly slowly, you're likely dehydrated.
So, how do you tackle these two? The underlying causes of dry and dehydrated skin types are different. Dry skin is due to the low production of natural oils while dehydrated skin lacks hydration. So, if you have dehydrated skin, you need to grab that water bottle and start gulping down! Try to keep a count of how many glasses/liters of water you drink. As a general rule, you should drink between a half ounce to one ounce of water for every pound you weigh. That means if your weight is 120 pounds, you need to drink between 60 and 120 ounces of water a day.
To take care of the surface issues for both dry and dehydrated skin, you need to incorporate a moisturizing serum.
The Best Celestolite Serum for Dry Skin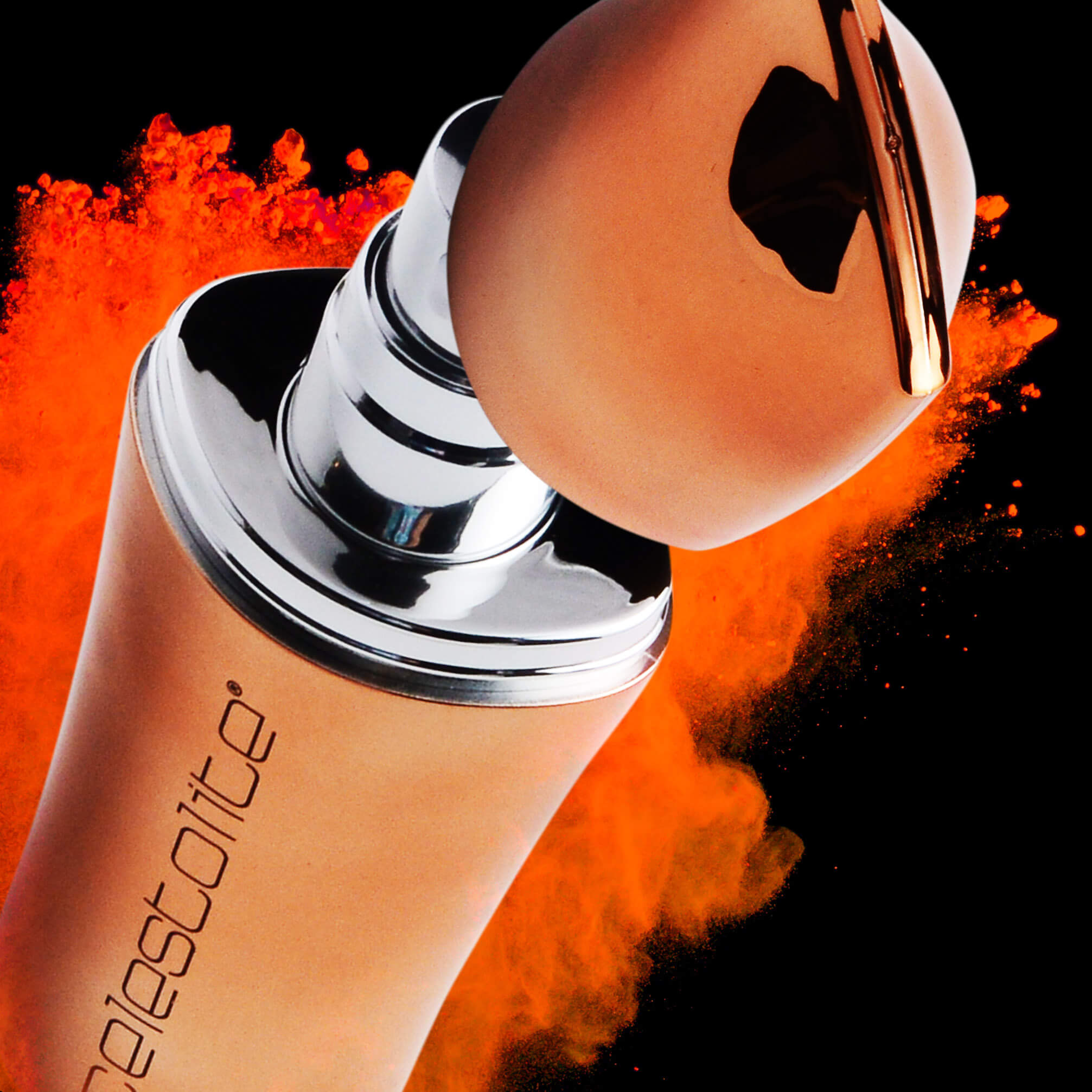 So, what's the best Celestolite serum to help take care of dry skin at the surface level? Our Mars Stellar Serum will do the trick! This revolutionary formula is enriched with Meteorite Powder and powerful peptides to refresh and restore your look. It also incorporates powerful moisturizing ingredients, like Glycerin, Sodium Hyaluronate, Propylene Glycol, and Collagen, to keep your skin feeling silky soft!
This amazing Celestolite serum also infuses Palmitoyl Tripeptide, Palmitoyl Hexapeptide, and a new generation of Vitamin C to make your skin appear firm and even-toned. These three powerful ingredients work by smoothing away the look of wrinkles and other aging signs.
You'll find that this silky-smooth formula works effortlessly to moisturize your skin. Enjoy a renewed radiance and softer appearance after every use!
Wrinkles and Fine Lines
Aging concerns tend to show up any time after you turn 25. This is because our bodies naturally produce less and less collagen and elastin — the primary proteins that support skin firmness and elasticity — with increasing age. You'll start to notice dullness, dry patches, as well as fine lines and wrinkles around your face due to thinning.
For some people, skin aging can occur prematurely due to a number of reasons; genetics, poor environment, unhealthy diet, and bad habits like smoking. So, in a way, your biological age doesn't matter when your skin is aging faster or slower depending on how you take care of it.
Although aging is bound to happen, you can incorporate a special serum into your routine to make it less visible. We've got two amazing Celestolite serums to help you fade away the look of wrinkles and fine lines from your face.
The Best Celestolite Serums for Aging Skin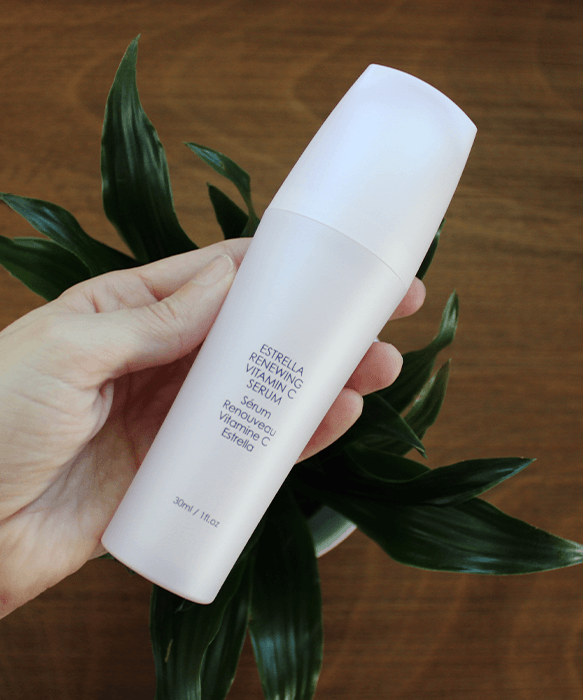 The first one is the Jade Spectra Bead Serum, which features an exquisite blend of skin-loving peptides and botanical extracts to help you regain your youthful glow! The formula is infused with Acetyl Hexapeptide-8 — the perfect ingredient for diminishing the look of wrinkles.
The sensational serum also features Vitamin E; a powerful ingredient when it comes to diminishing the look of aging spots. You'll also find a host of botanical extracts to pamper your skin — Green Tea, Aloe Vera, Para Cress, German Chamomile, and Marigold. This powerful combination of natural ingredients is designed to relieve dry skin while reducing the look of acne scars and puffiness.
This Celestolite serum is all you need to make your skin look toned, lifted, and revitalized. The advanced formula will help smooth out the appearance of fine lines and wrinkles, giving you younger and fresher-looking skin!
We've also got the Estrella Renewing Vitamin C Serum to help you take care of wrinkly skin. Infused with powerhouse ingredients like Vitamins A and C, this sensational silky formula will enhance the overall look and feel of your skin. Give your skin the chance to regain its youthful glow and radiance with this sensational serum from Celestolite.
Loose, Saggy Skin
Loose skin can occur for a number of reasons:
Excessive exposure to UV rays

Natural aging

Smoking

Drinking too much

Losing a lot of weight suddenly
All of these factors can cause you to have dehydrated skin that loses its elasticity and firmness. Your skin slowly begins to wrinkle and dull, losing its plump and healthy glow. But there are many ingredients in the skincare realm to help you appear younger and fresher than before; Vitamin A (retinoids), Vitamin C (Ascorbic Acid), Hyaluronic Acid, and Vitamin E (Tocopheryl Acetate), to name a few.
The Best Celestolite Serum for Loose & Saggy Skin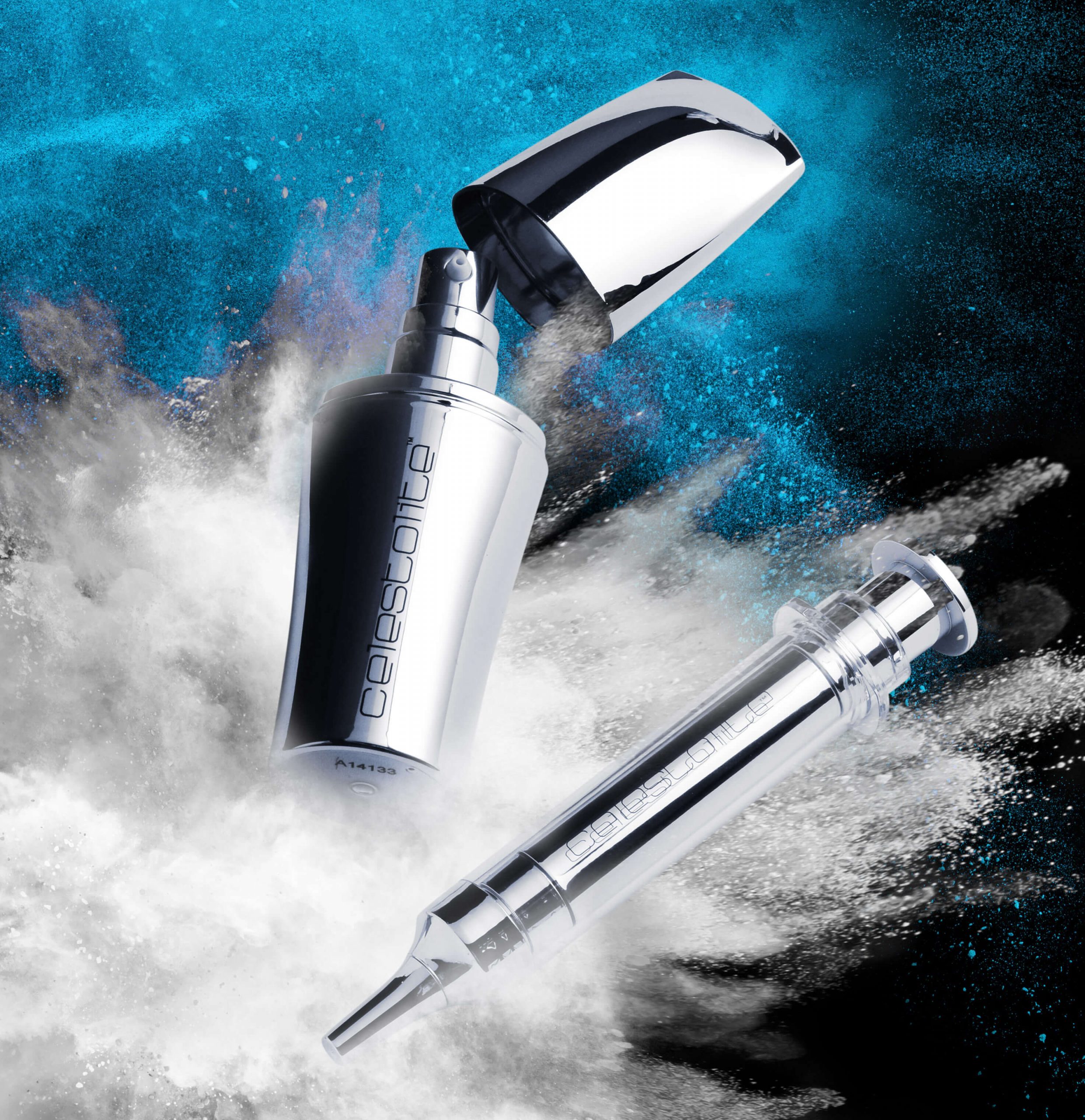 And we've got just the Celestolite serum for you! Our Cosmic Firming Serum is enriched with Retinyl Palmitate from the ROYAL retinoid family. This powerful ingredient works amazingly to reduce the look of wrinkles and fine lines. It helps tighten the look of your skin, giving it a younger appeal. No firming routine can be complete without a retinoid in the mix!
This formula also incorporates Vitamin C and Hyaluronic Acid, two other key ingredients that keep your skin feeling healthy and fresh!
This sensational serum is also fused with a powerful AHA, Lactic Acid. It works to thicken and tighten the look of your skin while reducing the appearance of wrinkles.
Don't forget to incorporate this serum into your daily routine so your skin can feel smooth and luminous every day!
Crow's Feet
We've focused on serums for your face, but what about your eyes? The skin around your eyes is highly sensitive and thus requires special care. It's prone to early signs of aging like thinning, sagging, and wrinkling.
Our Estrella Eye Serum might help turn things around for you! This Celestolite serum is formulated with a powerful peptide, Palmitoyl Tetrapeptide-7. It works effectively to ease the look of crow's feet. This formula also incorporates Green Tea Extract to help ease the look of puffiness and bring radiance to your eye area!
Achieve Lush-Looking Skin with Celestolite Serums
We hope this read helped you pick out a Celestolite serum for your targeted skin concerns. Our formulas are revolutionized with Meteorite Powder and leading skincare ingredients to give you the best of the best!
For other products, you can always visit the Celestolite store and take a tour of the star-studded Celestolite range. We've got many different types of products and collections in store for you, so don't forget to browse around!