Is your skin dull or lacking in radiance? Wondering how can you get a more vibrant, healthy-looking complexion? 
Dehydration, a lack of moisture, smoking, and even aging are all contributors to a dull complexion, but that's where Celestolite comes in.
Harnessing the power of powdered meteorite, Celestolite strives to provide you with excellent products that will restore and revitalize your skin. Offering a skincare experience that's "out of this world," all of Celestolite's products contain meteorite powder, which consists of calcium, magnesium, and a variety of other minerals. Meteorite powder is beneficial to the skin when applied topically because of its mineral-rich composition.
Today, we want to introduce you to the Celestolite Luna Collection. It's perfect for those fed up with dull-looking skin. This collection is suitable for those of you who would like to restore that glow to your complexion because it contains a blend of powdered meteorite and other botanical extracts that are potent yet gentle on the skin.
Keep reading to find out more about the Celestolite Luna Collection!
Energize And Revitalize Your Complexion with the Celestolite Luna Mineral Cream
One out of the four products in the Celestolite Luna Collection, you can now infuse your skin with the power of the Luna Mineral Cream from Celestolite. This formula is packed full of vitamins and minerals. As a result, this cream enhances skin cell function, which will bring out your skin's natural radiance.
Key Ingredients in the Celestolite Luna Mineral Cream
Salicylic Acid
This ingredient is a beta hydroxy acid, and it comes from willow bark. It's oil-soluble, making it a great addition for those of you with oily skin, and can penetrate deep into your dermis to foster cell turnover. Salicylic acid's ability to target blackheads and whiteheads is what makes it such an effective acne treatment. You'll find it in just about every anti-acne product out there. That said, in small amounts, it's fine for all other skin types too.
It basically dissolves the skin debris that clogs pores, acts as an anti-inflammatory, and also helps red, inflamed pimples and pustules go away faster. In addition, salicylic acid is a keratolytic in medicine, ideal for deep exfoliation.
Tocopherol Acetate
Commonly known as Vitamin E, this skin-loving ingredient in the Celestolite Luna Mineral Cream boasts many benefits. Vitamin E in the form of tocopheryl acetate is an antioxidant that aids in the fight against free radical damage and promotes skin healing to reduce the appearance of aging signs. If that wasn't all, this ingredient also helps to keep the skin moisturized. It's a must-have for every skin type!
Allantoin
Allantoin, a non-irritating substance extracted from the comfrey plant's root, soothes and protects the skin. It's an excellent all-arounder for skin health because it promotes new tissue growth while also aiding in wound healing. As a result, it is perfect for sensitive skin that requires some TLC. That said, all skin types would benefit from allantoin.
How to Use the Celestolite Luna Mineral Cream
Apply this cream to cleansed skin once a day. You'll only need to use a small amount – a little goes a long way! Its velvety smooth texture will sink into your skin in no time. Help it along with a gentle facial massage to really get your blood flowing. Use this cream in conjunction with the Luna Lava Mask for optimal results.
Amp Up Your Skin's Luminosity with the Celestolite Luna Thermal Activator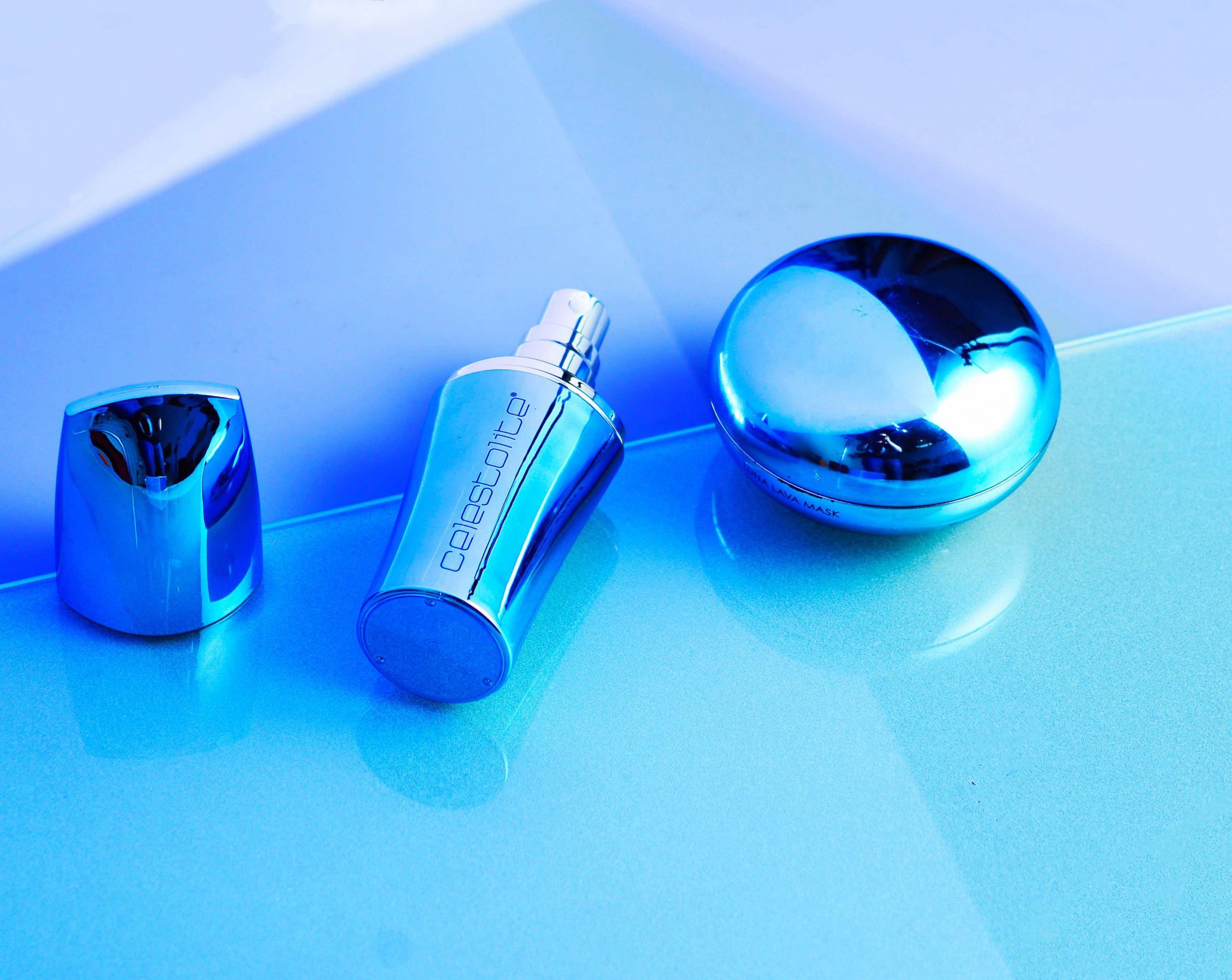 The Celestolite Luna Thermal Activator ramps up the intensity of the Luna Lava Mask, bringing more energy and luminosity to tired skin. This product is a booster formula. It is designed to be used over the top of the Luna Lava Mask (which we'll be talking about next!). 
Key Ingredients in the Celestolite Luna Thermal Activator
Palmitoyl Tripeptide-1
One of the synthetic fatty acid-linked peptides, palmitoyl tripeptide-1 can cure apparent skin damage and enhance the underlying support elements of the skin. This peptide is known as a "messaging peptide" because of its capacity to "instruct" the skin to look better, particularly when it comes to UV damage. According to certain studies, this peptide's anti-aging properties are similar to retinol's.
Palmitoyl Tetrapeptide-7
Palmitoyl tetrapeptide-7 is a synthetic peptide molecule made up of multiple amino acid chains. It is primarily utilized in anti-aging skincare formulas to aid in developing healthy collagen and cell function. Palmitoyl tetrapeptide-7 has been discovered to induce the regeneration of collagen fibers in the dermis by serving as a cellular messenger. It is also known to boost hyaluronic acid levels in the skin, which can help tighten skin by drawing moisture to the epidermis. Palmitoyl tetrapeptide-7 is one of several peptides recently found and used to improve skin health.
Sodium Hyaluronate
Sodium hyaluronate is a water-soluble salt made from hyaluronic acid, a naturally occurring substance in the body. You've probably heard about this ingredient – it's everywhere at the moment. Why?
Well, as a humectant, sodium hyaluronate draws moisture into the epidermis from the environment and the underlying layers of your skin. It's crucial for rebuilding and maintaining a healthy moisture barrier to avoid transepidermal water loss, contributing to inflammation.
Sodium hyaluronate is also non-comedogenic, which means it won't clog your pores. It gives the skin a dewy finish without leaving a heavy, greasy residue behind.
What makes sodium hyaluronate different from hyaluronic acid?
It all comes down to molecular size. Sodium hyaluronate is much smaller. As a result, it can penetrate deeper into the skin. This means deeper hydration, resulting in even plumper skin cells.
How to Use the Celestolite Luna Thermal Activator
When using the Luna Lava Mask, add 2 to 3 drops of this formula onto your skin. Massage this into the mask so that the two blend together. Never used a mask booster before? You'll love it! Try the mask with and without to see the differences for yourself. 
Get Clearer, Brighter Skin With The Celestolite Luna Lava Mask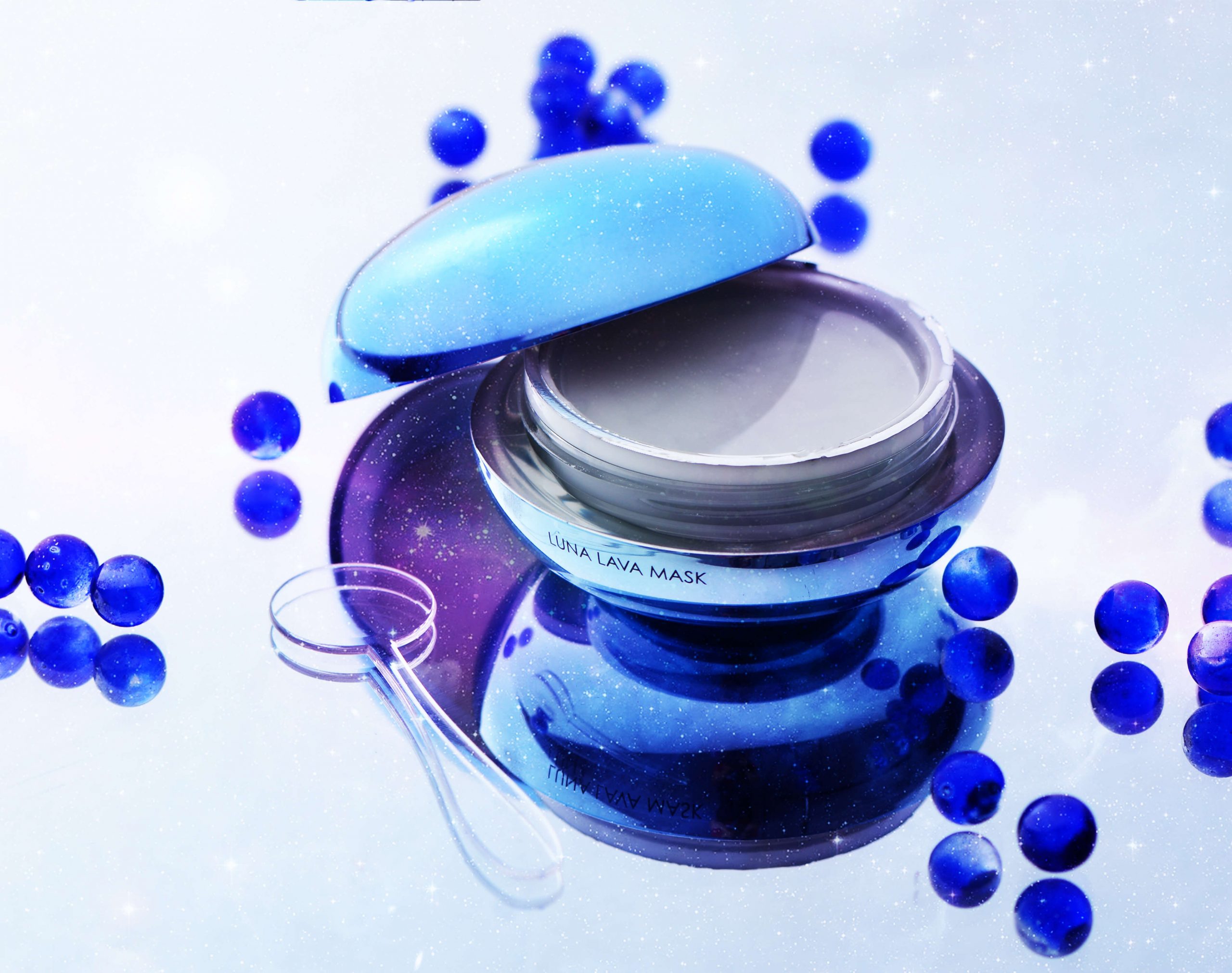 Celestolite's Luna Lava Mask is a delightful, spa-like treatment. Its thermal catalysts gently warm the skin while simultaneously delivering a concentrated dose of minerals and botanicals. It leaves the skin looking clearer, brighter, and more radiant. And don't worry, this mask doesn't get too hot! It heats up to a comfortable level, just enough to relax your pore openings to allow more product to seep through.
Key Ingredients in the Celestolite Luna Lava Mask
Kaolin
Those with oily or breakout-prone skin who want to manage shine should definitely include kaolin in their skincare routines. That said, the ingredient is suitable for all skin types.
Although kaolin may not have a wide range of skin advantages and isn't the most multifunctional of skincare ingredients, it's an excellent treatment for excess sebum production. It could be a wonderful addition to your weekly skincare routine for the following reasons…
Kaolin absorbs excess sebum (the greasy substance produced by our skin) and moisture in oily skin. It also controls shine and oil by eliminating extra oil from the skin's surface, mattifying your complexion. Kaolin complements acne therapy regimes since it effectively draws out impurities from deep within the skin, dries out blackheads, absorbs excess oils, and decreases the appearance of pores. This leaves the skin feeling soft and smooth, with a refined finish.
Arnica Montana Flower Extract
Arnica is a flower with anti-inflammatory characteristics. Its anti-inflammatory, analgesic, antibacterial, and antiseptic characteristics make it ideal for various spa treatments, including sports massage and facials. In addition, arnica offers other skincare benefits too, including soothing and relieving inflammation and acne. This is a calming botanical that everyone needs to try!
Ascorbic Acid
There's a reason vitamin C is so well-known. Uneven skin tone, rough texture, fine wrinkles, acne scars, general dullness – name any typical complexion issue, and vitamin C is likely to be a solution. Vitamin C is a potent antioxidant that can neutralize free radicals when it comes to your skin. It aids in your skin's natural regeneration process, which helps your body heal damage and produce new skin cells.  These will replace the dull and rough skin cells on the surface of your skin, giving you a glow.
So, as much as eating antioxidant-rich meals helps your body fight free radicals, topical antioxidants help your skin do the same. This can offset daily aggressors, like UV damage and air pollution. Antioxidants, in other words, aid in the health of our bodies and skin cells. And one of the best antioxidants out there? You guessed it…vitamin C.
Aloe Vera Extract
Aloe barbadensis leaf extract, also known as Aloe vera, has been used for centuries for health, beauty, medical, and skincare. The plant is divided into three layers: the outside rind, the middle layer, which produces latex, and the inner gel, made of 99.5% water. Zinc, potassium, magnesium, and vitamins E, C, and D make up the remaining 0.5% of the inner layer. Many of these nutrients are popular skincare ingredients in themselves.
Transepidermal water loss (TEWL) can be prevented by aloe vera. When the water in the skin is lost to the environment and air, TEWL occurs. This is especially the case in dry conditions. Glycosaminoglycans are thought to be responsible for this ability to prevent moisture loss. Glycosaminoglycans (GAGs) are sugar molecules that help the skin retain moisture. Where can you get GAGs from? You guessed right…aloe vera is a fantastic source! Yet another reason why we love this botanical.
How to Use the Celestolite Luna Lava Mask
Massage this mask upwards onto clean, damp skin. For even bigger benefits, add 2 to 3 drops of our Luna Thermal Activator to the mix and massage until well integrated. Sit back and enjoy some me-time for 10-15 minutes before rinsing the mask off. We would recommend using this mask once a month for optimal results. 
Minimize the Look of Imperfections with the Celestolite Luna Luminous Touch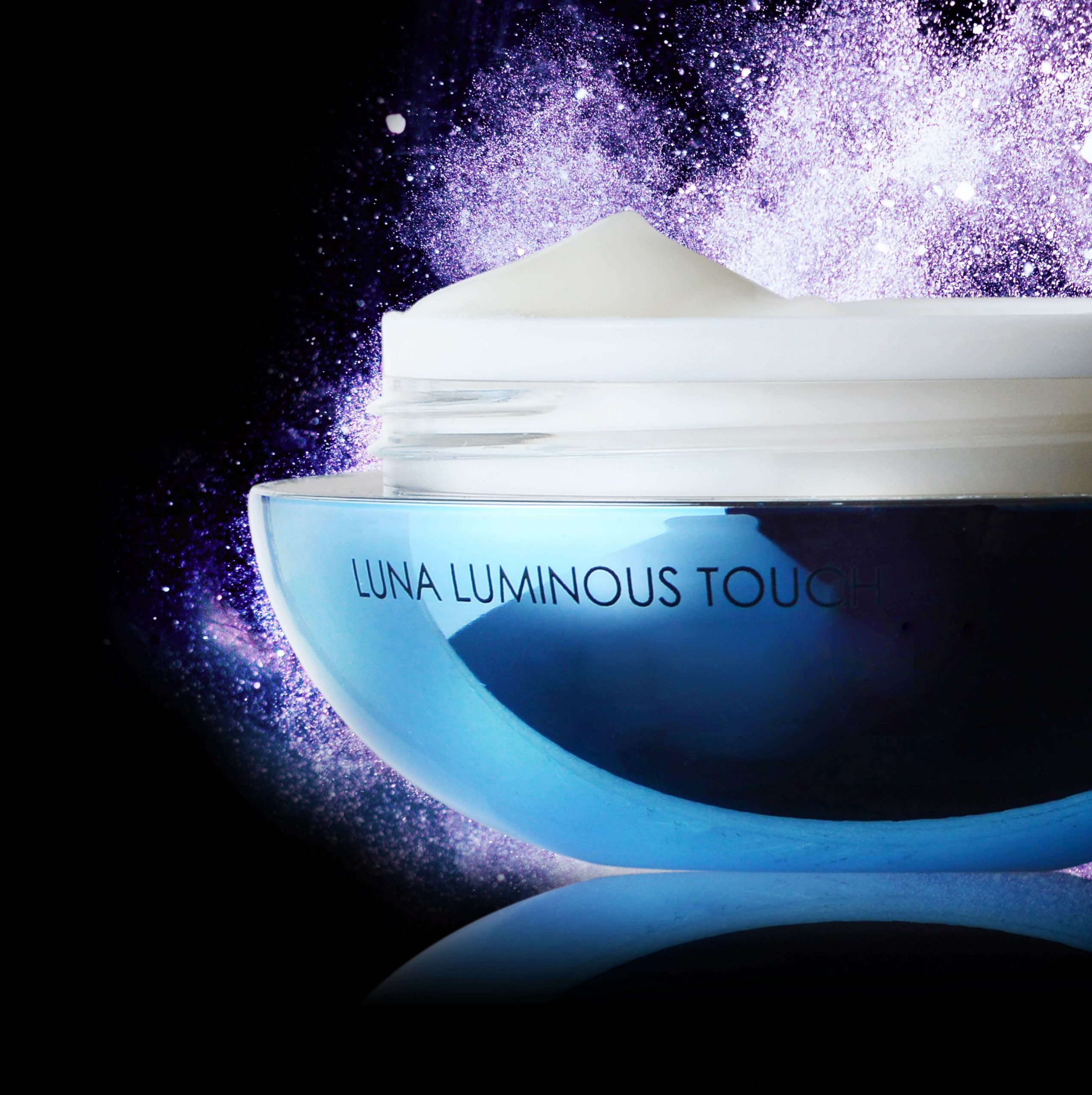 We designed this moisturizer to mattify the skin. It's a superstar at improving the appearance of the skin's texture. As a result, this helps decrease the appearance of flaws. 
In addition, the Celestolite Luna Luminous Touch, infused with Retinyl Palmitate and a mix of potent botanicals, will offer you renewed everyday confidence. That's something that we would all benefit from!
Key Ingredients in the Celestolite Luna Luminous Touch
Retinol
Vitamin A is the source of retinol. It is transformed to its active form, retinoic acid, once absorbed into the skin. As a result, your skin becomes clearer since retinoic acid contains anti-aging, anti-inflammatory, antioxidant, anti-microbial, and increases anti-acne effects.
It also reduces the appearance of wrinkles and scars. Vitamin A gradually enhances the appearance of the skin with regular use. You can expect to see a reduction in lines, scars, and dark spots when using the ingredient long-term. What's not to love?!
Keep in mind that there are a few different forms of vitamin A out there. We chose retinol because it's more powerful than the more commonly used retinyl palmitate. This means that you'll see results even faster!
Resveratrol
Resveratrol is an antioxidant present in grape skins. You'll find it in other fruits too. It is now also a popular ingredient in various skincare products. It belongs to the polyphenols family of chemicals. Resveratrol protects the skin by interrupting unfavorable environmental impacts and protecting it from UV damage. Using an antioxidant like resveratrol helps boost your skin's natural defenses, resulting in smoother, healthier skin.
Resveratrol works on a cellular level to combat aging by boosting healthy cell multiplication. It also has important skin-calming qualities that aid in reducing the appearance of redness and inflammation. Besides that, it brightens and evens your skin tone and improves the texture of your skin. This skin-loving ingredient also helps moisturize the skin and prevent it from drying out. 
Hippophae Rhamnoides Fruit Extract
This berry, also known as sea buckthorn, is high in vitamin C and other B vitamins. It also contains vitamin E, lycopene, phytosterols, and phenolic compounds that have antioxidant properties. This fruit extract assists in stabilizing components in your skin that would typically break down in the presence of peroxide and other forms of free radicals. Like other berries, it has a strong calming effect on the skin.
Hydrolyzed Corallina Officinalis Extract
Corallina Officinalis extract is made from red algae found on rocky coasts near tide pools. It can be ground up and used in skincare to exfoliate the skin, stimulate cell turnover, and regulate oil production. However, the main benefit of Corallina Officinalis is exfoliation. 
How to Use the Celestolite Luna Luminous Touch
Apply a small amount to your face, avoiding the eye area. In soft, circular motions, massage the cream into your skin, concentrating on areas with lines and wrinkles. There is no need to rinse this cream off. It has a silky smooth texture that your skin will quickly drink up. Use this moisturizer once a week and in conjunction with our Luna Lava Mask for best results.
Summary
Want to give the Celestolite Luna Collection a try? If there's a particular product you love the sound of, you can purchase it individually. However, we'd recommend the full set. It includes all four products enriched with remarkable ingredients to revive your tired skin. You can even try the Luna Collection + Celestial Renewal System for an added boost. It contains our exclusive Celestial Renewal System face mask. There are enough masks in this box to last you a year!
All in all, the Celestolite Luna Collection is a must-have if your skincare goal is to have a bouncy, plump, and hydrated complexion that's out of this world.